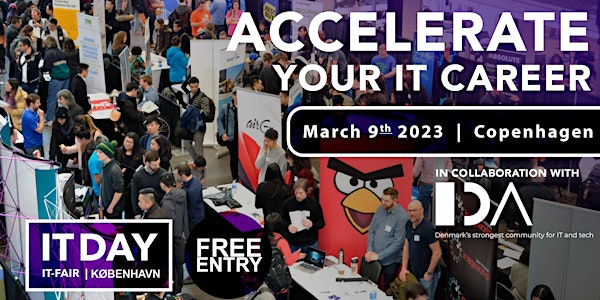 IT-DAY CAREER FAIR | COPENHAGEN 2023
The largest IT-Career fair in Denmark. Here you can explore technologies, find student-jobs, internships, projects, full-time jobs etc.
When and where
Location
DGI Byen Tietgensgade 65 1704 København Denmark
About this event
During IT-DAY, the IT-students of Copenhagen will be able to meet 58+ of the largest and/or coolest IT-companies in Denmark. Here the companies bring everything from student jobs, project collaborations, internships, graduate positions to full time jobs.
What you can get out of IT-DAY
Experience the technologies that the companies will bring to the fair
Find internships, graduate positions, student jobs, full time jobs and project collaborations
Talk with IT people who are in the positions you want to be in when you graduate
Watch epic keynotes from industry leading companies
Watch hyper presentations - 30 companies have 1-minute to pitch why you should find them interesting.
Win prizes
And more
Participate to get amazing insight in the ever changing development of IT, and network until all of your questions has been answered. Spark your curiosity, see what's out there! Maybe you'll discover something new?
_____
𝗪𝗵𝗮𝘁: IT-DAY IT-Career fair. Throughout the day you can visit the companies booths, watch a hyper presentation, watch 2 keynotes and win epic prizes.
𝗪𝗵𝗲𝗻: 9th of March 2023 from 10:00-15:00
𝗪𝗵𝗲𝗿𝗲: DGI Byen, Tietgensgade 65, 1704 København
𝗪𝗵𝗼: IT-students or IT-graduates of DTU, ITU, KU, CBS, RUC, KEA, AAU Copenhagen - and other IT-interested parties.
𝗣𝗿𝗶𝗰𝗲: FREE
Sign-up: Here on Eventbrite
_____
𝗣𝗮𝗿𝘁𝗶𝗰𝗶𝗽𝗮𝘁𝗶𝗻𝗴 𝗰𝗼𝗺𝗽𝗮𝗻𝗶𝗲𝘀
𝑇𝑜𝑝𝑠𝑜𝑒, 𝑁𝑜𝑣𝑜 𝑁𝑜𝑟𝑑𝑖𝑠𝑘, 𝑁𝑁𝐸, Ø𝑟𝑠𝑡𝑒𝑑, Ø𝑘𝑜𝑛𝑜𝑚𝑖𝑠𝑡𝑦𝑟𝑒𝑙𝑠𝑒𝑛, 𝑆𝑡𝑎𝑡𝑒𝑛𝑠 𝐼𝑇, 𝐺𝑁 𝐺𝑟𝑜𝑢𝑝, 𝑁𝑂𝑅𝑅𝐼𝑄, 𝐶𝑒𝑛𝑣𝑎𝑡𝑖𝑜𝑛, 𝐶𝐺𝐼 𝐷𝑒𝑛𝑚𝑎𝑟𝑘, 𝐶𝑎𝑝𝑔𝑒𝑚𝑖𝑛𝑖, 𝑅𝑖𝑔𝑠𝑝𝑜𝑙𝑖𝑡𝑖𝑒𝑡, 𝑐𝑉𝑎𝑡𝑖𝑜𝑛, 𝑁𝑁𝐼𝑇, 𝑀𝑖𝑙𝑒𝑠𝑡𝑜𝑛𝑒 𝑆𝑦𝑠𝑡𝑒𝑚𝑠, 𝐷𝑒𝑚𝑎𝑛𝑡, 𝐸𝑌, 𝑇𝑅𝐼𝑀𝐼𝑇, 𝐾𝑂𝑀𝐵𝐼𝑇, 𝑉𝑎𝑙𝑐𝑜𝑛, 𝐿𝑖𝑚𝑒 𝑇𝑒𝑐ℎ𝑛𝑜𝑙𝑜𝑔𝑖𝑒𝑠, 𝑀𝑖𝑐𝑟𝑜𝑠𝑜𝑙𝑢𝑡𝑖𝑜𝑛𝑠, 𝐾𝑀𝐷, 𝐴𝑐𝑐𝑒𝑛𝑡𝑢𝑟𝑒, 𝐷𝑆𝐵, 𝐷𝑎𝑛𝑠𝑘 𝐼𝑛𝑔𝑒𝑛𝑖ø𝑟 𝑆𝑒𝑟𝑣𝑖𝑐𝑒, 𝐶𝑒𝑛𝑡𝑟𝑖𝑐𝑎 𝐸𝑛𝑒𝑟𝑔𝑦 𝑇𝑟𝑎𝑑𝑖𝑛𝑔, 𝐷𝑎𝑛𝑠𝑘𝑒 𝑆𝑝𝑖𝑙, 𝑖𝑡𝑚8, 𝑈𝑑𝑣𝑖𝑘𝑙𝑖𝑛𝑔𝑠- 𝑜𝑔 𝐹𝑜𝑟𝑒𝑛𝑘𝑙𝑖𝑛𝑔𝑠𝑠𝑡𝑦𝑟𝑒𝑙𝑠𝑒𝑛, 𝐵𝑎𝑛𝑒𝑑𝑎𝑛𝑚𝑎𝑟𝑘, 𝑀𝑗ø𝑙𝑛𝑒𝑟 𝐼𝑛𝑓𝑜𝑟𝑚𝑎𝑡𝑖𝑐𝑠, 𝐴𝑙𝑠𝑡𝑜𝑚 𝑇𝑟𝑎𝑛𝑠𝑝𝑜𝑟𝑡, 𝑒-𝑛𝑒𝑡𝑡𝑒𝑡 𝐴/𝑆, 𝐸𝑑𝑜𝑟𝑎, 𝐼𝐷𝐴 – 𝑎𝑛𝑑 𝑚𝑜𝑟𝑒 𝑎𝑟𝑒 𝑗𝑜𝑖𝑛𝑖𝑛𝑔 𝑒𝑣𝑒𝑟𝑦 𝑤𝑒𝑒𝑘
_____
𝗦𝗰𝗵𝗲𝗱𝘂𝗹𝗲
The IT-fair is open from 10:00-15:00. Here you can visit the companies booths and attend hyper presentations and keynotes throughout the day.
10:00 IT DAY Opens
10:30-11:40 - HP from 30 companies
13:00-13:30 - CERN Keynote
14:30-15:00 - IBM Keynote
15:00 IT DAY Closes
We look forward to greet you and have an exciting day with IT.