Location
Scandic Copenhagen
6 Vester Søgade
1601 København
Denmark
Hyper presentations and keynote seats are first come first serve - so be sure to show up early to have a seat :)
About this event
During IT-DAY, the IT-students of Copenhagen will be able to meet 40+ of the largest and/or coolest IT-companies in Denmark. The companies will bring the frontier of technology to the heart of Copenhagen to celebrate the current technological state of the world.
Besides meeting the many awesome companies you'll also have a unique chance to experience the virtual and physical creations that they are working on.
Participate to get amazing insight in the ever changing development of IT, and network until all of your questions has been answered. Spark your curiosity, see what's out there! Maybe you'll discover something new?
_____
𝗪𝗵𝗮𝘁: IT-DAY IT-Career fair. Throughout the day you can visit the booths of 40+ companies, watch a hyper presentation, watch 2 keynotes and win epic prizes.
𝗪𝗵𝗲𝗻: 28th of April 2022 10:00-15:00
𝗪𝗵𝗲𝗿𝗲: Scandic Copenhagen, Vester Søgade 6, 1601 København
𝗪𝗵𝗼: IT-students or IT-graduates of DTU, ITU, KU, CBS, RUC, KEA, AAU Copenhagen - and other IT-interested parties.
𝗣𝗿𝗶𝗰𝗲: FREE
𝗛𝗼𝘄: Grab a ticket on Eventbrite for the career fair, the hyper presentation and/or the keynotes.
Sign-up: On Eventbrite
Hyper Presentations & Keynote tickets:
The hyper presentation and keynote tickets on Eventbrite are only to register your interest. They do not guarantee you a seat. Seats are first come first serve (FCFS). Be sure to show up in due time for grab a seat.
_____
𝗣𝗮𝗿𝘁𝗶𝗰𝗶𝗽𝗮𝘁𝗶𝗻𝗴 𝗰𝗼𝗺𝗽𝗮𝗻𝗶𝗲𝘀
Accenture, Administrations og servicestyrelsen, Alexandra instituttet, Alfa Laval, ATP, BCG, Capgemini, Centrica, Cenvation, CERN, CGI, TRIMIT, COWI, Dagrofa Foodservice, DANSK INGENIØRSERVICE A/S, Deloitte, Epico Next Gen, EY – Ernst & Young, Haldor Topsoe, Hjemmeværnet, IBM, IDA, IT Relation. KMD A/S, Kyndryl, Lime Technologies, Lunar, Milestone Systems, NNIT, Novo Nordisk, Ørsted, PA Consulting, Politi NC3, Randstad Danmark, ROCKWOOL, SAS, Systematic, TechBBQ - Studenterforening, Trackunit, Unit IT, Valcon, VRDK
_____
𝗦𝗰𝗵𝗲𝗱𝘂𝗹𝗲
The IT-fair is open from 10:00-15:00. Here you can visit the companies booths and attend three keynotes throughout the day.
𝟭𝟬:𝟬𝟬 IT DAY 2022 opens
𝟭𝟬:𝟯𝟬-𝟭𝟭:𝟭𝟬 HP from 30 companies | https://fb.me/e/1orzM7zCx
𝟭𝟯:𝟬𝟬-𝟭𝟯:𝟯𝟬 CERN Keynote | https://fb.me/e/31xNTQQmv
𝟭𝟰:𝟯𝟬-𝟭𝟱:𝟬𝟬 IBM Keynote | https://fb.me/e/2OJlrF2tO
𝟭𝟱:𝟬𝟬 IT DAY 2022 closes
We look forward to greet you and have an exciting day with IT.
IT-DAY Hyper Presentations | 30 Companies
We are starting the fair with a banger of a dynamic and fast paced presentation from 30 of the participating companies. They have been given 1 minute to speak about anything they wish. They might talk about who they seek, which technologies they work with, what competitions they bring to the fair - some of them might make a foam pap-mache volcano, who knows, come fine out. Buckle up - it's gonna be wild!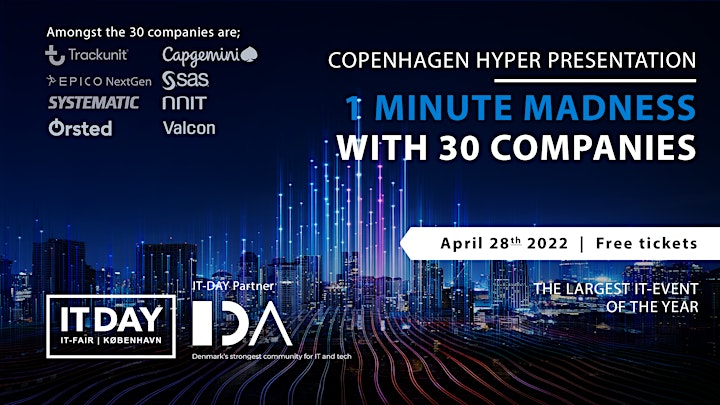 IT-DAY Keynote | CERN - The European Organization for Nuclear Research: Accelerating IT: Discovering the Nature of our Universe
Which role does IT play in discovering the nature of our universe? What is antimatter? How can particle physics be useful in space? What's next for CERN? These and many other questions will be answered by CERN, the European Organization for Nuclear Research, who is flying from Switzerland to IT-DAY in Copenhagen. It will be a "big bang'er" of a keynote, and a once in a lifetime opportunity to learn from one of the largest international frontier science collaborations.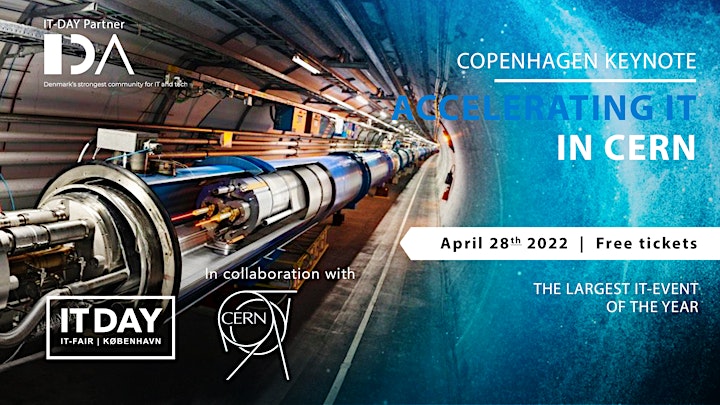 IT-DAY Keynote | IBM - Quantum Computing
Quantum computing will bring us a huge leap forward in computation to solve certain problems. That sounds good, but what can it be used for? (And it is not gaming!)
Imagine this:
- Steal data now, decrypt later (Like, what do they hide in area 51?)
- Unlock mysteries. Mapping of the universe, explore the human mind
- Weather Forecasting. Could this be a lifesaver?
- Artificial Intelligence & Machine Learning (super-fast data learning)
No matter what, quantum computing will change the world. We have invited IBM to talk about what it is and are going to talk about some of the top quantum computing applications in the real world. Maybe you will be working with quantum computing after this keynote. So sign up for the future today. Sign up for IT-Day!