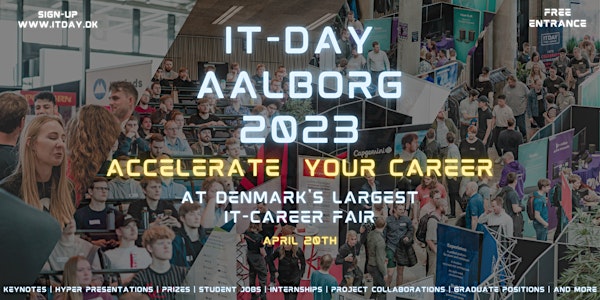 IT-DAY CAREER FAIR | AALBORG 2023
The largest IT-Career fair in Denmark. Here you can explore technologies, find student-jobs, internships, projects, full-time jobs etc.
By IT-DAY: For students by students
Date and time
Thursday, April 20 · 10am - 3pm CEST
Location
CREATE Aalborg University 14 Rendsburggade 9000 Aalborg Denmark
About this event
During IT-DAY, the IT-students of Aalborg will be able to meet 50+ of the largest and/or coolest IT-companies in Denmark. Here the companies bring everything from student jobs, project collaborations, internships, graduate positions to full time jobs.
What you can get out of IT-DAY
Experience the technologies that the companies will bring to the fair
Find internships, graduate positions, student jobs, full time jobs and project collaborations
Talk with IT people who are in the positions you want to be in when you graduate
Watch epic keynotes from industry leading companies
Watch hyper presentations - 30 companies have 1-minute to pitch why you should find them interesting.
Win prizes
And more
Participate to get amazing insight in the ever changing development of IT, and network until all of your questions has been answered. Spark your curiosity, see what's out there! Maybe you'll discover something new?
_____
𝗪𝗵𝗮𝘁: IT-DAY IT-Career fair. Throughout the day you can visit the companies booths, watch a hyper presentation, watch 2 keynotes and win epic prizes.
𝗪𝗵𝗲𝗻: 20th of April 2023 14:30-15:00
𝗪𝗵𝗲𝗿𝗲: Create, Rendsburggade 14, 9000 Aalborg
𝗪𝗵𝗼: People who are looking for jobs within the IT/tech industry and IT-students or IT-graduates of AAU, UCN, AU, Tech College, EAAA, VIA - and other IT-interested parties.
𝗣𝗿𝗶𝗰𝗲: FREE
Sign-up: Here on Eventbrite
_____
Participating companies:
𝐸𝑐𝑜𝑛𝑡𝑎 𝐶𝑜𝑛𝑠𝑢𝑙𝑡𝑖𝑛𝑔 𝐺𝑟𝑜𝑢𝑝, 𝐵𝐸𝑈𝑀𝐸𝑅 𝐺𝑟𝑜𝑢𝑝, 𝐿𝑖𝑛𝑑 𝐶𝑎𝑝𝑖𝑡𝑎𝑙, 𝑁𝑂𝑅𝑅𝐼𝑄, 𝑁𝑒𝑡𝑐𝑜𝑚𝑝𝑎𝑛𝑦, 𝐴𝑠𝑘𝐶𝑜𝑑𝑦, 𝑉𝑒𝑠𝑡𝑎𝑠 𝑊𝑖𝑛𝑑 𝑆𝑦𝑠𝑡𝑒𝑚𝑠, 𝐷𝑎𝑛𝑠𝑘𝑒 𝐶𝑜𝑚𝑚𝑜𝑑𝑖𝑡𝑖𝑒𝑠, 𝐶𝑎𝑝𝑔𝑒𝑚𝑖𝑛𝑖, 𝐵𝑎𝑛𝑘𝑑𝑎𝑡𝑎, 𝑅𝑜𝑘𝑢, 𝑅𝑖𝑔𝑠𝑝𝑜𝑙𝑖𝑡𝑖𝑒𝑡, 𝐺𝑟𝑢𝑛𝑑𝑓𝑜𝑠, 𝑇𝑅𝐼𝑀𝐼𝑇. 𝐷𝑎𝑛𝑖𝑠ℎ 𝐶𝑟𝑜𝑤𝑛, 𝑆𝑦𝑑𝑏𝑎𝑛𝑘, 𝑀𝑎𝑝𝑠𝑃𝑒𝑜𝑝𝑙𝑒, 𝑁𝑜𝑟𝑙𝑦𝑠 𝐸𝑛𝑒𝑟𝑔𝑦 𝑇𝑟𝑎𝑑𝑖𝑛𝑔, 𝘋𝘦𝘮𝘢𝘯𝘵, 𝐾𝑀𝐷, 𝐸𝑝𝑖𝑐𝑜 𝑁𝑒𝑥𝑡𝐺𝑒𝑛, 𝐴𝑐𝑐𝑒𝑛𝑡𝑢𝑟𝑒, 𝐷𝑆𝐵, 𝐷𝑎𝑛𝑠𝑘 𝐼𝑛𝑔𝑒𝑛𝑖ø𝑟 𝑆𝑒𝑟𝑣𝑖𝑐𝑒, 𝐶𝑒𝑛𝑡𝑟𝑖𝑐𝑎 𝐸𝑛𝑒𝑟𝑔𝑦 𝑇𝑟𝑎𝑑𝑖𝑛𝑔, 𝐴𝑟𝑙𝑎 𝐹𝑜𝑜𝑑𝑠, 𝐿𝑦𝑛𝑔𝑠𝑜𝑒 𝑆𝑦𝑠𝑡𝑒𝑚𝑠, 𝐸𝑛𝑒𝑟𝑔𝑖𝑛𝑒𝑡, 𝐼𝑇-𝑎𝑓𝑑𝑒𝑙𝑖𝑛𝑔𝑒𝑛 𝑅𝑒𝑔𝑖𝑜𝑛 𝑀𝑖𝑑𝑡𝑗𝑦𝑙𝑙𝑎𝑛𝑑, 𝑖𝑡𝑚8, 𝐼𝑇 𝑀𝑖𝑛𝑑𝑠, 𝐶𝐸𝐺𝑂, 𝑈𝑑𝑣𝑖𝑘𝑙𝑖𝑛𝑔𝑠- 𝑜𝑔 𝐹𝑜𝑟𝑒𝑛𝑘𝑙𝑖𝑛𝑔𝑠𝑠𝑡𝑦𝑟𝑒𝑙𝑠𝑒𝑛, 𝑅𝑇𝑋, 𝐽𝐶𝐷, 𝐸𝑢𝑟𝑜𝑤𝑖𝑛𝑑 𝐸𝑛𝑒𝑟𝑔𝑦, 𝐷𝑦𝑛𝑎𝑚𝑖𝑐𝑤𝑒𝑏 𝑆𝑜𝑓𝑡𝑤𝑎𝑟𝑒, 𝐷𝑎𝑛𝑠𝑘 𝑀𝑎𝑔𝑖𝑠𝑡𝑒𝑟𝑓𝑜𝑟𝑒𝑛𝑖𝑛𝑔, 𝐴𝐴𝑈 𝑆𝑡𝑢𝑑𝑒𝑛𝑡 𝐸𝑛𝑡𝑟𝑒𝑝𝑟𝑒𝑛𝑒𝑢𝑟𝑠ℎ𝑖𝑝, 𝘕𝘰𝘷𝘰 𝘕𝘰𝘳𝘥𝘪𝘴𝘬, 𝘋𝘦𝘵 𝘕𝘰𝘳𝘥𝘫𝘺𝘴𝘬𝘦 𝘔𝘦𝘥𝘪𝘦𝘩𝘶𝘴, 𝘖𝘒 𝘈𝘔𝘉𝘈 , 𝐼𝐷𝐴 - 𝑎𝑛𝑑 𝑚𝑜𝑟𝑒 𝑎𝑟𝑒 𝑗𝑜𝑖𝑛𝑖𝑛𝑔 𝑒𝑣𝑒𝑟𝑦 𝑤𝑒𝑒𝑘
𝗦𝗰𝗵𝗲𝗱𝘂𝗹𝗲
The IT-fair is open from 10:00-15:00. Here you can visit the companies booths and attend two keynotes and one hyper presentation throughout the day.
👉𝟭𝟬:𝟬𝟬 IT DAY 2023 opens
👉𝟭𝟬:𝟯𝟬-𝟭𝟭:𝟭𝟬 Hyper Presentations | https://fb.me/e/2pEN62JQG
👉𝟭𝟯:𝟬𝟬-𝟭𝟯:𝟯𝟬 Capgemini Keynote | https://fb.me/e/26ESCAjPe
👉𝟭𝟰:𝟯𝟬-𝟭𝟱:𝟬𝟬 Norlys Energy Trading | https://fb.me/e/3bSrnpocl
👉𝟭𝟱:𝟬𝟬 IT DAY 2023 closes
We look forward to greet you and have an exciting day with IT.
IT-DAY Hyper Presentations | 30 Companies
𝗧𝗵𝗲 𝗛𝘆𝗽𝗲𝗿 𝗣𝗿𝗲𝘀𝗲𝗻𝘁𝗮𝘁𝗶𝗼𝗻𝘀 "𝟭 𝗠𝗶𝗻𝘂𝘁𝗲 𝗠𝗮𝗱𝗻𝗲𝘀𝘀"
30 companies will have 1 minute each to tell you why they are at IT-DAY, what they are looking for, what epic tech they are working on, which competitions they have brought and anything else you can imagine. We have given them free reign to talk about whatever they want. It's going to be chaotic and thrilling!
IT-DAY Keynote | The future of the Metaverse with Capgemini
𝐖𝐚𝐧𝐭 𝐭𝐨 𝐬𝐞𝐞 𝐡𝐨𝐰 𝐝𝐞𝐞𝐩 𝐭𝐡𝐞 𝐫𝐚𝐛𝐛𝐢𝐭 𝐡𝐨𝐥𝐞 𝐠𝐨𝐞𝐬 𝐰𝐢𝐭𝐡 𝐭𝐡𝐞 𝐩𝐨𝐬𝐬𝐢𝐛𝐢𝐥𝐢𝐭𝐢𝐞𝐬 𝐨𝐟 𝐭𝐡𝐞 𝐌𝐞𝐭𝐚𝐯𝐞𝐫𝐬𝐞? 🚀
Want to see how deep the rabbit whole goes with the possibilities of the Metaverse? We've already seen glimpses of these possibilities in VR games. Maybe you have tried jumping out of a plane hurling towards earth from the comfort of your living room or been chased by a zombie. This is now. But what is in store for the future of the Metaverse? 💁‍♀️
How will the Metaverse impact our daily lives, how mature is this new world currently and what might the practical applications be? At the IT-DAY Capgemini keynote, you¨ll be able to find out. Here Capgemini's CEO Claus Rydkjær will tell you all about the current state and the future of the Metaverse and what it will bring forth of opportunities and challenges. So buckle up for a deep dive! 🤯🎯
So buckle up for a deep dive! 🌊🤩
IT-DAY Keynote | Aalborg, Europe's "Silicon Valley" within Energy Trading with Norlys Energy Trading
𝐃𝐢𝐝 𝐲𝐨𝐮 𝐤𝐧𝐨𝐰 𝐭𝐡𝐚𝐭 𝗔𝗮𝗹𝗯𝗼𝗿𝗴 𝐢𝐬 𝐄𝐮𝐫𝐨𝐩𝐞'𝐬 𝐚𝐧𝐬𝐰𝐞𝐫 𝐭𝐨 𝐒𝐢𝐥𝐢𝐜𝐨𝐧 𝐕𝐚𝐥𝐥𝐞𝐲 𝐰𝐢𝐭𝐡𝐢𝐧 𝐄𝐧𝐞𝐫𝐠𝐲 𝐓𝐫𝐚𝐝𝐢𝐧𝐠? 🤯
Having a stable and affordable energy supply is one of the most critical topics that our society is facing today - and Norlys Energy Trading is one of the key players in this regard.
Come to the Norlys Energy Trading keynote to learn about the future of energy, the technologies (Algorithms, Batteries, "power to x" and more) that they work with every day to secure efficient and sufficient energy distribution in Europe. 🎯
You can also experience live energy trades during the keynote – the atmosphere at this keynote is going to be electric; you don't want to miss it! 🤩👌
About the organizer
IT-DAY has been created by IT-Management students of Aalborg University, whom saw the need for an IT-Fair in Aalborg. 
Our Vision:
We want to help building the bridge between students and industry, and ultimately to help making Aalborg the IT-Capital of Europe enabling more companies to set up offices in the city. 
We want to connect the institutions of Aalborg to a higher degree enabling a more meaningful interaction between the students of AAU, UCN, the international students, the unemployed graduates, unions and student organizations - as well as any other individual who is excited by IT.