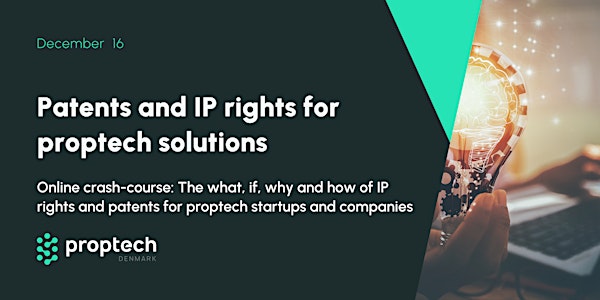 IPR and Patents for Proptech Solutions
Online crash-course: The what, if, why and how of IP rights and patents for proptech startups
About this event
Have you ever considered protecting your solution, technology, design or idea with a patent or other form of intellectual property right? Join this one-hour online crash course where you will get and introduction to what IPR is, why and when IPR can be relevant, how you get them and how and why other proptech companies have used them.
The course will touch upon different types of IPR, and when to use and prepare for each type of IPR. Finally, it will be exemplified where information about other companies in the proptech space can be found.
For participants it is possible to arrange for a short one-to-one session of with upfront guidance during slots following the course or by appointments made just after the course.
For a fruitful session, please prepare your elevator pitch and prepare questions about potential rights issues.
With IPR expert Poul Erik Bak, Owner and European Patent Attorney at Pillar Patents