About this Event
Some say that the story is the key to connection and memorability. We agree, but also know that it unfolds its real power when it transforms into an experience. Companies and brands are now taking steps forward to integrate their story in their marketing, experience design, services and products. The process for doing so can be complicated, especially with different channels and audiences to reach. To help marketing, entertainment and attraction professionals master it successfully, we are about to introduce our new and updated online courses in Integrated Storytelling.
What is Integrated Storytelling? How can I use it to transform my story into an experience?
These are among the questions we will answer in this first-ever free online introduction t the theory and practice of the concept. Anyone or any company, small or big, who wants to learn new ways of moving their career or business forward, is welcome to join us online. The key topics of the session will include
How is storytelling different from what it used to be?
What does it mean to design a story-based experience?
How does Integrated Storytelling transform digital storytelling, the application of VR technology and experiential marketing?
What is a story and experience integrator, and what is their role in an organisation?
This session is not just a webinar. It is an online, live presentation with the possibility to ask questions and participate in the discussion.
The Integrated Storytelling Introduction session will be presented by Klaus Sommer Paulsen, Founder and CEO of AdventureLAB and Themed Entertainment Association International Board Member.
Klaus has worked with storytelling and media for more than 30 years, and integrated marketing, digital multimedia and experience design since the mid-1990s. Besides this work, he has trained, lectured and presented talks and keynotes for professionals and students alike. He is in charge of AdventureLAB's collaboration with learning institutions, including VIA UC Film & Transmedia, where he is chairing the educational committee for the Multiplatform Storytelling & Production (MSP) program. Klaus is currently presenting courses for marketing professionals for the Danish Marketing Association and partaking in the development of a new international MBA program.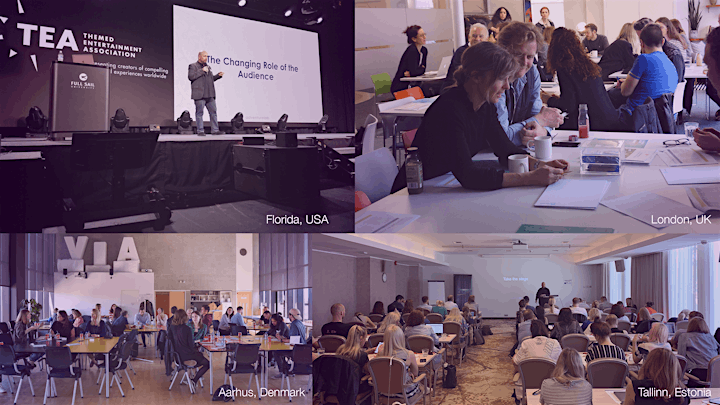 About Integrated Storytelling
Used as a design method, Integrated Storytelling creates a synergy between the story and the experience, while empowering the audience with new roles and ways to immerse themselves in engaging memorable moments.
We designed this methodology at AdventureLAB. We do not only apply it as our way of working by we also train companies around the world to implement it in their design process. For years, we have developed and facilitated masterclasses, workshops, courses. From September 2020, Integrated Storytelling will be taught as a part of an MBA Program at the University of Tartu Pärnu College.
Now we are launching our Integrated Storytelling Online Certification Program. It is a fully developed, college-level program that combines theory and practice. The program begins on Wednesday, March 25, 2020, with the "Introduction to Integrated Storytelling" session. This session is also scheduled for Wednesday, March 25th 2020.
For more information about AdventureLAB and about our journey with Integrated Storytelling visit: adventurelabstudio.com