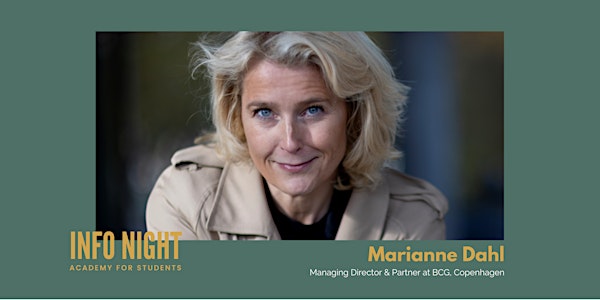 Info Night with Female Leadership Academy
SIGN UP HERE! Note: Seats are limited so make sure to secure yours in time!
When and where
Location
Solbjerg Plads Solbjerg Plads 2000 Frederiksberg Denmark
About this event
About this event
Join us for a small taste of the amazing Female Leadership Academy experience for students with an inspiring and informative talk on female leadership and tech trends from Marianne Dahl, Managing Director & Partner at BCG Copenhagen.
In addition, the event will be ending with light food and drinks - this is the perfect time to network with other students from different universities.
Make sure to secure a seat trough the registration link - we look forward to seeing you.
Our info night takes place at CBS in the PWC auditorium (SPs210) , located on the second floor of SP.
Program for the night:
17:15 - 17:30 - Door opens
17:30 - 17:40 - Welcome by Female Leadership Academy
17:40 - 18:30 - Female Leadership and Tech Trends - Marianne Dahl
18:30 - 18:55 - Q/A - Marianne Dahl
18:55 - 19:15 - Fall Academy 2022 and Application Process
19:15 - 19:25 - Leadership Academy Powered by KPMG
19:25 - 19:40 - Alumni Stories
19:40 - 20:00 - Q/A about the Application Process
20:00 - Networking with Food & Drinks!
WHO ARE WE?
Female Leadership Academy is an organization on a mission to create more diversity in top management. Through a series of workshops, the academy will provide the members with a comprehensive leadership toolbox, as well as empower and inspire future leaders.
We wish to show that everyone can shoot for the stars, and our key-note speakers will guide and assist everyone to increase motivation, confidence, and skills, and further address some of the barriers that many women encounter in their careers.
If you are interested in the opportunity to learn from successful women from various business segments and create a strong network with like-minded and ambitious students, join us at the Info Night to learn more. We cannot wait to meet all of you!
WHO CAN ATTEND THE INFO NIGHT?
Everyone is welcome at our info night! Whether you have an interest in our leadership program, want to hear more about leadership and diversity, collaborate with us, or something else.
NOTE: Our leadership program is open for all students currently enrolled at a university.
APPLICATIONS
To attend the leadership program, you must send an application. The application process opens on Thursday the 1st September, and closes on Sunday the 2nd October 23:59pm. Keep an eye on our social media to learn more!
Please send in your application through the following link: https://form.jotform.com/222383745615358
FOLLOW OUR JOURNEY
LinkedIn: http://bit.ly/31OQQvJ
Facebook: http://bit.ly/38ifsj7
Instagram: http://bit.ly/38jvTLY
Web: http://bit.ly/37gMD5f
Please note that at this event, photos and video content will be taken for marketing purposes