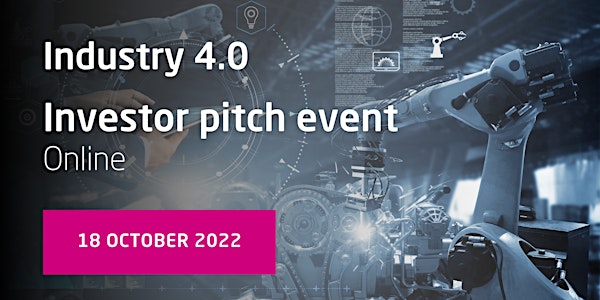 Industry 4.0 - Online investor pitch event
Join us for our online Industry 4.0 Investor pitch event
About this event
This is your chance to meet the following 19 hand-picked Industry 4.0 Startups from leading European ecosystems with funding needs ranging from pre-seed to series A and B.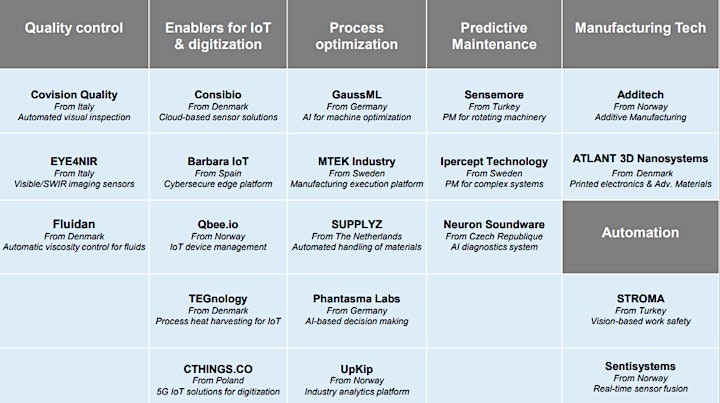 The startups have been carefully selected for our Industry 4.0 Program 2022, in which we are matching them with our Corporate Partners and Preferred Investors.
This online investor pitch event is FREE and open to all investors and VCs in our network.
Our Preferred Investor Partners will receive a one-pager catalogue on all startup participants with funding needs, 1:1 meeting opportunity and tickets to our Networking Dinner and Concluding Summit in Copenhagen on the 16th of November with lots of face-to-face time with the startup founders, ecosystem members and our Corporate Partners.
If you haven't already, we encourage you to also register as an investor through DeepTech Alliance's investor web form so that we can invite you to our forthcoming Investor Pitch Events.
If you have any questions regarding this event, DeepTech Alliance in general or would like to know more about the opportunity to become one of DeepTech Alliance's preferred Investors, please reach out to our Investor Engagement Managers:
Jakob Heiberg; jhe@dtusciencepark.dk; +45 2189 9458 and
Magnus Melander; magnus@thingstockholm.com; +46 70 230 72 51.
We look forward to having you with us.