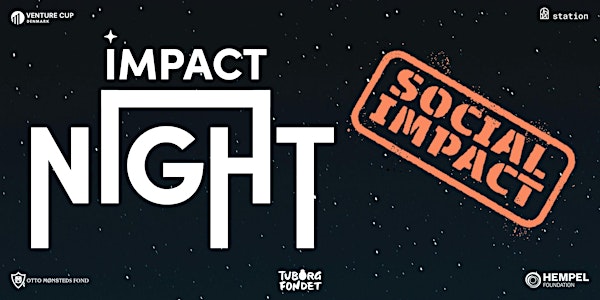 impact NIGHT by Venture Cup Denmark
Meet social impact focused startups and help build the entrepreneurial university community!
Date and time
Friday, May 12 · 5 - 11pm CEST
Location
Station - a Student Innovation House 30 Howitzvej 2000 Frederiksberg Denmark
About this event
Celebrate university entrepreneurship at impact NIGHT hosted by Venture Cup Denmark at Station, Howitzvej 30, Frederiksberg, on the 12th of May from 17:00-23:00.
Join the community and meet key actors in the ecosystem:
Students who dream about working in startups to contribute to a better world!
Status-quo-defying startups working with social impact.
The entrepreneurial community, including university hubs and organizations, working to help students and startups make their dreams come true starting a business.
During the evening we will serve streetfood, there will be an open bar. This year we'll have the afterparty at Station with a wonderful DJ, and when nearing midnight we will continue the conversations into the night at a nearby bar (yet to be announced).
Program
17:00 -18:00 Arrival and welcome drink.
18:00 - 18:05 CEO of Venture Cup Denmark, Morten Ugelvig Andersen, will kick off the night
18:05 - 18:15 Opening speech by Mads Lorentzen from the startup humAId.
- humAId uses AI to create a translation service for people using sign language. He won Venture Cup Denmark's National Startup Competition 2022 as the best university startup in Denmark!
18:15 - 19:15 Street food in the yard, network & tunes.
19:15-19:25 Speech from Mathias E. Nielsen from GladTeknik A/S,
- GladTeknik repairs computer hardware for companies and indviduals. The founder and over half of his employees has one or more diagnosis. Mathias also got funded by Jacob Risgaard in Løvens Hule, who called him the Danish Elon Musk.
19:25 - 19:40 Social Impact panel
- DivERS, Idrætsfællesskabet, I Bedste Fald, humAId
19:40 - 19:50 Speech - TBA
19:50 - 22:50 Marketplace, DJ & network.
Let's Come Together and have a (social) impact on the world!
About the organizer
Venture Cup is a common platform for all Danish universities from which we identify and support the entrepreneurs of tomorrow among the students.
We host two national and one international competition annually. We also run a mentor program for university students with more than 250 Experts from the business community and a matchmaking project called Come Together, where university students get the chance of joining a startup.