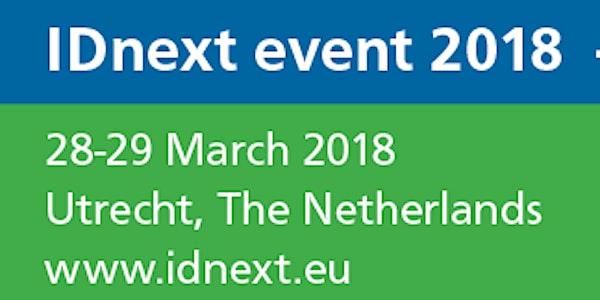 IDnext'18 - The European Digital IDentity and Payments (un)-conference, The Netherlands.
When and where
Location
Van der Valk Hotel Utrecht Winthontlaan 4-6 3526KV Utrecht Netherlands
Refund Policy
Contact the organizer to request a refund.
Description
Annual Digital Identity and Payments (un)-conference, IDnext'18 - Utrecht (NL)

The program is built around the true key issues of the digital identity and payments of both public and private
organisations. It is ID users leading network and knowledge sharing event and supported by equensWordline.
Active participation during IDnext'18 offers unique opportunities of interaction, dissemination of knowledge and experience with your peers. This event is intended to help you and all other attendees find the time and space to talk and learn from each other. More information about the program.
equensWorldline
As Europe's leading payment service provider, equensWorldline combines long-standing proven expertise in traditional mass payment systems (issuing, acquiring, intra- and interbank payment processing) and innovative e-commerce and mobile payment soluitions.
IDentity Innovation Award
At IDnext'18, the IDentity Innovation award will be granted to the best new (innovative) concept or product concerning digital identity. With this award, IDnext wants to recognize and support new developments that are shaping the future of the digital identity.
More information about the award.

Sponsoring opportunities
IDnext'18 is packed with ICT and Business decision makers looking to meet, network and exchange experience and knowledge. This event sponsors an unrivalled platform to engage with your target audience in a face-to-face environment.
More information on sponsoring.

Frequently Asked Questions:
What is un-conference?
This event is intended to help you and all the other attendees find the time and space to talk with and learn from each other. This event will be a combination of a fixed and free-form un-conference format. Combining these kinds of formats and its strengths shows that it will create space for peer-to-peer learning, collaboration, interaction, discussion and creativity. That will definitely mean that you have the opportunity to listen to experts and professionals and take part in debates and discussions. With the un-conference format it also put conference session - related to the themes of the event - on the agenda that will be defined on the day itself.
How do I register and collect my ticket at the event?
The IDnext'18 event will be open at 10:00 AM on 28th March with a welcome and keynote opening. There will be two full days of sessions and networking activities on March 28 and 29 at equensWorldline premises in Utrecht. At the first day there will be a networking drink and diner. The second day will start 09:30 AM with a keynote opening and closure.
Where can I contact the organizer with any questions.
Contact us via e-mail (info@idnext.eu) or visit our website.
What is the refund policy?
Payment Policy
Full payment of conference fees is due at time of online registration, via credit card or invoice. Individuals who need to submit a check or make other payment arrangements should contact our office via info@idnext.eu.
Cancellations & Refunds
All cancellation requests must be submitted in writing via email and will adhere to the terms and conditions of IDnext association which can be found on the website of IDnext.
Substitutions
If you purchased a registration ticket and would like to transfer it someone else because you are unable to attend, please contact us at least four business days before the conference starts; pre approval is required for any substitutions. Everyone must be registered in advance to be admitted to the conference.