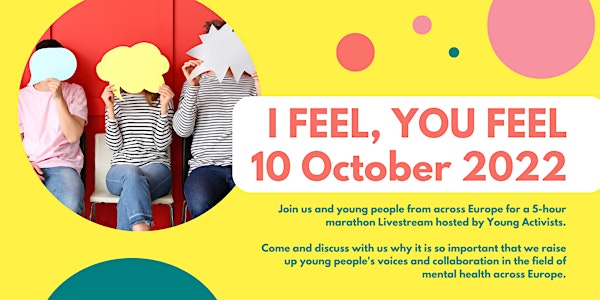 I Feel, You Feel - Raise Up Tonight LIVE!
Europe's only annual youth mental health event!
About this event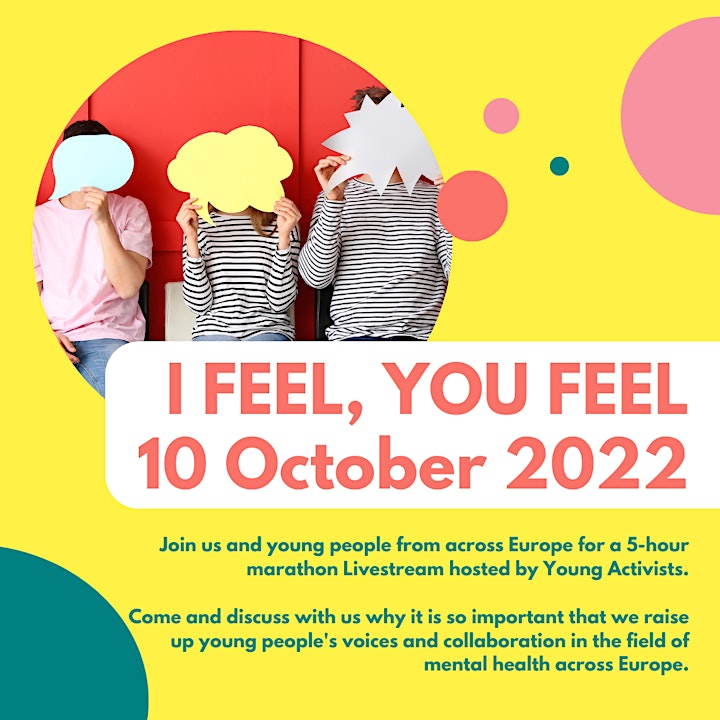 JOIN US ON TWITCH/YOUTUBE/FACEBOOK!
Europe's only youth mental health event!
Join us and young people from across Europe for a big old conversation about mental health and encourage young people to RAISE UP!
Questions will be encouraged on all platforms
5-hour Livestream on Facebook
Hosted by EYMH Collective Superstars Joana, Ines & Amira
Confirmed guests to date (times CEST):
3pm - 3:20pm - Nick Morgan - EYMH Director
We will be chatting to Nick about some of the big pieces of work coming up for EYMH as well as hearing about some of his over pieces of work he does outside of EYMH.
3:30pm - 3:55pm - Maria Walsh - Member of European Parliament
Maria will be discussing the 'what now' after having the EU deny her campaign to make next year the 'year of mental health', a program of work the EU focuses on each year. We'll also ask Maria how she manages her own mental health with such a highly demanding job.
4:15pm - 4:45pm - Cassie Redlich - World Health Organisation Europe
Cassie Redlich works as a technical officer in the Mental Health Flagship at the World Health Organization Regional Office for Europe, where she has responsibility for work on the mental health and wellbeing of children, adolescents and young people.
5:40pm - 6:10pm - Simona Karbouniaris - Researcher & Lecturer at Utrecht University.
Simona is a certified Social Worker, specialising in dance, yoga and movement. She obtained a master's degree in Social Intervention and is currently conducting doctoral research in The Netherlands. As a lived experience researcher she is always keen to explore and involve the 'users perspective'. Leading the youth co-production element with EYMH for the Youth-GEMs project.
6:20pm - 6:45pm - Alejandra P - EYMH Trustee
EYMH Trustee & Young EbE will be joining the co-hosts in a round table sharing with us her experiences with mental health, becoming a Trustee with EYMH and why now is the time to Raise Up
6:55pm - 7:15pm - Pavlos Theodorakis - WHO Europe Technical lead
Coordinating the Mental Health Europe Flagship program - Pavlos will be discussing the origins of the Flagship program and how people from across Europe have come together to drive this agenda forward.
7:20pm - 7:40pm - Agnes Sarolta Fazekas - Lecturer & Human rights and disabilities specialist.
Agnes Sarolta Fazekas (she/her) is an assistant professor at the Eötvös Loránd University Bárczi Gusztáv Faculty of Special Needs Education in Budapest, Hungary and Human rights and disability trainer.
Agnes will highlight six practices/tips - 3 of them from higher education, including the CHARM-EU https://www.charm-eu.eu/ and three tips from non-formal educational settings on how everyone can contribute to creating a welcoming, inclusive, and educational spaces.
7:40pm - 8pm - Close
Co-hosts will sum up highlights from the day and remind us why it is so important that we #raiseup young people's voices and collaboration in the mental health field across Europe.