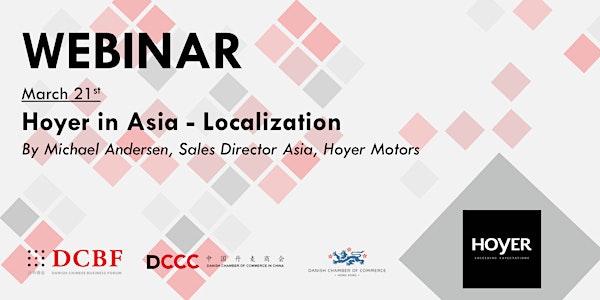 Hoyer in Asia - Localization
Localisation | Strategy
By DCBF, DCC HK and DCCC North, East and South China
When and where
Date and time
Tue, 21 Mar 2023 01:00 - 02:00 PDT
About this event
Despite the predicted economic slowdown, China is still growing relatively rapidly, and continues playing an important role globally, as a market, producer and R&D operations.
What are the factors you should take into consideration when investing in Asia, and what adjustments you need to make in order to succeed in investing in markets that differs from your home market.
We have invited Hoyer to give us an insight on their China strategy, and how they reached peak sales during one of the toughest years for many businesses in China.
Outline:
Hoyer's footprint in Asia and market adjustment
Corporate strategy localization
Technical Strategy Adjustment
Localized sales strategies – avoid/one-size fits all
Agile and flexible adaption with focused strategy for different segments/sub segments
Please contact info@dcbf.dk if you have any questions.