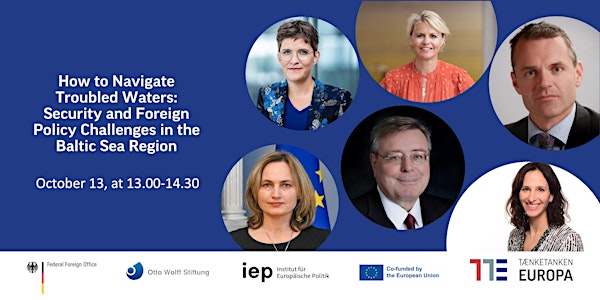 How to Navigate Troubled Waters
This event focuses on how EU Member States around the Baltic Sea view the new security situation in the region.
When and where
Location
Eigtveds Pakhus 25D Strandgade 1401 København Denmark
About this event
Russia's war against Ukraine represents the biggest challenge to the European security architecture since the end of the Cold War. The EU as such has been steadfast in its support for Ukraine, quickly adopting extensive sanctions on Russia, providing military assistance in a first-ever move, and granting Ukraine EU candidate status. Still, there are significant discordances among EU member states: whether it concerns weapons delivery, sanctions scope, or visa bans, some countries – including the Baltic and Nordic countries – have sought to maximise pressure on Russia, whereas Germany and other EU Member States have been more hesitant. Furthermore, Russia's war on Ukraine is having an impact on all regions across the world, heightening food insecurity and threatening to undermine the rules-based international order.
This event focuses on how the EU member states around the Baltic Sea interprets the fall-out of the war in Ukraine and how they would like to see the EU and NATO act in the short and long term.
Programme:
13:00 – 13:05 Welcoming Remarks
Dr. Funda TEKIN, Director, Institut für Europäische Politik (IEP), Berlin
13:05 – 14:30 Opening Discussion "How to Navigate Troubled Waters: Security and Foreign Policy Challenges in the Baltic Sea":
Dr. Anna LÜHRMANN, Minister of State for Europe and Climate, Federal Foreign Office, Germany (video message)
Jesper Møller Sørensen, State Secretary for Foreign Policy, Ministry of Foreign Affairs of Denmark
Q&A Discussion with:
Prof. Dr. Pascal HECTOR, Ambassador, Embassy of the Federal Republic of Germany in Copenhagen
Asta RADIKAITE, Ambassador, Embassy of the Republic of Lithuania to the Kingdom of Denmark, Copenhagen
Dr. Lykke FRIIS, Think Tank EUROPA, Copenhagen
Moderator: Dr. Funda TEKIN, Director, Institut für Europäische Politik (IEP), Berlin
Please note - there is only a limited number of seats for this event