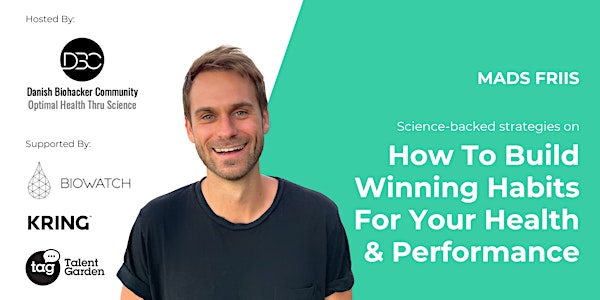 How to build habits for health and performance!
Come and learn the secrets of building lasting habits with habit expert Mads Friis! Doors open at 16:30 - event kick-off is 17:00
When and where
Location
Talent Garden Rainmaking 41 Danneskiold-Samsøes Allé 1434 København Denmark
About this event
If you struggle with building new good habits - this is an event you can't miss!
Whether you consider yourself a biohacker or not, your life is almost certainly controlled by your habits! Habits are our rituals that we often perform without even thinking about it, and we activate hundreds of them daily. We can significantly change our lives by implementing good habits and eliminating the bad ones. Mads' session on habits explains the three levels of change, covers the specific habits for top performance, the TAR model and actionable steps that everyone can take right away to find wonderful new ways to change their daily routines for the better.
We're are pleased to welcome the habit expert and a longtime member of the Danish Biohacker Community - Mads Friis - on stage!
Mads is an entrepreneur, adventurer, and knowledge junky.
He is the author of the bestseller "Winning Habits and Routines."
He has co-built successful health ventures as a Partner at the Venture Studio KRING.
His experience as a management consultant in Deloitte, then founder of a tech startup, let him teach and work with 150+ global startup teams.
As the founder of the Growth Island podcast, he interviewed 100+ experts on health, performance, business, and life's bigger mysteries.
These experiences have allowed him to coach some of the world's top athletes, entrepreneurs, and individuals curious about growth and regularly speak at companies and conferences.
We hope to see you for an spetacular event with lots of networking opportunities!
To your Health
Martin Kremmer - Founder of Danish Biohacker Community