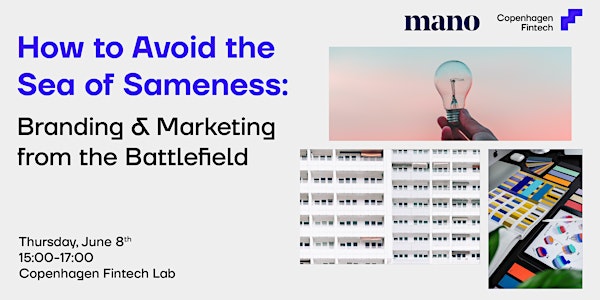 How to Avoid the Sea of Sameness: Branding & Marketing from the Battlefield
Learn how to foster the next wave of truly innovative FinTech marketing and branding in this masterclass with Mano Copenhagen.
Date and time
Thursday, June 8 · 3 - 5pm CEST
Location
Copenhagen FinTech Lab 7 Applebys Plads 1411 København Denmark
About this event
In their rebellion against big institutions, fintechs pride themselves on being truly bold and disruptive. But if everyone is acting "bold" in the exact same way, does it still give you a leg up? Or are you just treading water in a new sea of sameness?
The number of fintech startups worldwide has more than doubled in the past two years. Even as the market grows more competitive, we're seeing less and less innovation in how fintechs market themselves. Consumers are finding it difficult to differentiate between companies that offer the same promises of ease, convenience, and a quirky personality.
Fintech isn't the first industry to be infected with the sameness plague and probably won't be the last. Learn from marketing strategists who have helped the world's biggest brands stand out at the Super Bowl and the Olympics.
Do you know how to stand out?
In this masterclass, you will not only hear about Mano Copenhagen's work on the sea of sameness, but also from marketing and branding leaders with many years of experience either building fintech brands from scratch or working with the unique challenges of fintech scaleups.
In the panel debate we will talk openly and honestly about what we wish we had done differently and what our biggest wins have been.
Walk away wiser, more inspired with some useful marketing tricks up your sleeves and hopefully a smile on your face!
Speakers:
Presenter: Emma Li, Strategy Lead at Mano Copenhagen, TikTok Creator for Lunar
Moderator: Sarah Millerton, Fintech Marketing & Branding Consultant, ex-Head of Digital Culture at Nordea
Panelist: Zach Dioneda, VP of Brand Marketing at Public.com, ex-Director of Brand Marketing at Fiverr
Panelist: Sophie Juul, Head of Business Marketing at Lunar, ex-interim CMO at Lunar
Panelist: Mads Brix, CCO at Crediwire, ex-Head of Partnerships & Content at Tattoodo
Panelist: Lima Curtis, Head of Marketing at Monthio, ex-Head of Marketing at Inpay
Program:
15:00 Welcome, Networking & Coffee
15:15 Mano presents "The Sea of Sameness" (Insights into Mano and their work with big brands, how to avoid the Sea of Sameness in Fintech marketing, and takeaways for building a long lasting brand)
15:45 Pause
15:50 Panel Discussion
16:30 Networking
----
This Masterclass is part of Project "Innovationskraft 23-24: Finans og Fintech" supported by the European Regional Fund and the Danish Board of Business Development.
About the organizer
Anchored in the Nordic region's renowned design and digital traditions, Copenhagen Fintech strives to support human-centric financial solutions with potential to shape our global society.