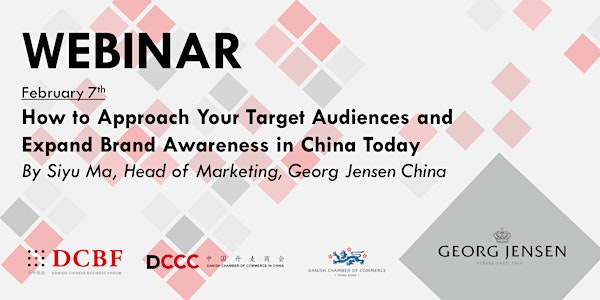 How to Approach Your Target Audiences and Expand Brand Awareness in China
Brand Awareness | Marketing
About this event
Amongst a sea of brands, and endless content, one of the biggest challenges brands face today is effectively connecting with their target audience, both online and offline. Often, marketing initiatives can feel like marketing into the void, without direct and tangible results. With an ever-changing communicational landscape, and ever-increasing number of touchpoints, what we aim to explore is how to avoid exactly that. In this webinar we will try and provide some insights around how to effectively reach your target audience, in a cost-efficient way through "KOL Grass Planting" and "Circling Effect".
Siyu is the Head of Marketing, Georg Jensen China. Before joining in Georg Jensen, Siyu has more than 9 years of experience in PR and EPR in the fashion industry. Siyu has extensive experience in both luxury branding as well as fast fashion brands, as both in-house, as well as with a number of top tier agencies.
Guest speaker: Stefano Censi, GM Georg Jensen China.
Click here to join the webinar (for DCBF, DCCC and DCCHK members only)!