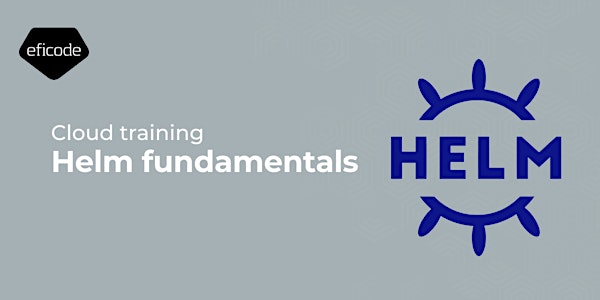 Helm fundamentals - 21/04/2022
Make application deployment easy, standardized and reusable
Refund Policy
Refunds up to 7 days before event
About this event
Description
Use Helm charts, package containerized applications using parameterized Helm charts to ease customization and reuse, best practices for templating and sharing Helm charts. Define helm tests, and test deployments with helm-test, CI/CD and GitOps with Helm.
Installing, upgrading, and maintaining simple to complex Kubernetes applications natively can be cumbersome and error-prone. With Helm from CNCF, you group Kubernetes objects together in logical releases and handle them as a singular instance. It helps make application deployment easy, standardized and reusable, improves developer productivity, reduces deployment complexity.
These applications can be sourced from opensource community-provided repositories, or from an organization's internal repository of customized application blueprints.
Note: This course is centered around Helm3 as Helm2 is being rapidly phased out.
Duration:
Two half-days (~7 h)
Type
Mix of theory and exercises
Audience
Software developers, Architects, SREs, DevOps and Continuous Delivery practitioners
Prerequisites
You will need to have Git bash. Basic linux bash knowledge is preferred, but will be covered at the beginning of course as well.
After completing this course, you will be able to:
Install Helm charts on your cluster
Add repositories to access pre-built charts
Create charts for your own application
Utilize the build-in pipeline and function features of Helm
Test charts with helm test, and lint
Manage the lifecycle of your helm release
Package and share your charts to a repository
Awareness of how to use Helm in a CI/CD context including GitOps
Day 1: Building microservices
We start with a brief overview of microservice architectures, discussing their pros and cons. We then discuss different architectures and how to implement them from scratch, and how to decompose a monolith. Following that there is a long project session to implement a small sandbox microservice system from scratch.
Project technologies: Java, Heroku, RabbitMQ
Day 2: Maintaining microservices
Building on part 1 we dive into how to develop microservices safely, primarily through automated testing. Then we discuss continuous deployment and feature toggling. Again, we finish with a long project session building on your result from day 1, where we set up a CD pipeline and debug a legacy microservice using automated testing.
Project technologies: Java, Optimizely, GitHub Actions, JUnit
Prerequisite
Kubernetes and Docker Fundamentals or similar knowledge of Kubernetes and Docker. Applied knowledge of git clone, push, pull, and branch.