Location
Copenhagen Business School
Solbjerg Plads 3
2000 Frederiksberg
Denmark
CBS Green Week 2022 will go deep on knowledge, tools and skills needed in our future careers of doing green and sustainable business.
About this event
For this event, we will be joined by Tenna Skov Thorsted who is managing Carlsberg Denmark's sustainability efforts. She will let us in on how she and Carlsberg Denmark work with the ambitious sustainability strategy set out by the Carlsberg Group
In 2017 the Carlsberg Group launched their global sustainability strategy, Together Towards Zero which aims at zero Co2 emission, zero wastewater at breweries, responsible use of their products, and a safe working environment.
Tenna will share how her ambition of incorporating sustainability in every decision process, brings her across all functions in the firm. Furthermore, she will let us in on how Carlsberg Denmark ensures that the ambitious targets are met and the initiatives create value for the business.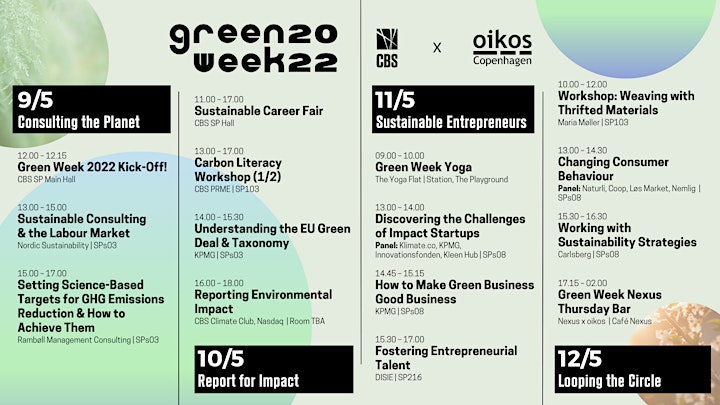 We hope to see you there!
The oikos team 🌱
About CBS Green Week
Green Week is one of the biggest student-led initiatives at Copenhagen Business School. It is oikos Copenhagen's flagship event and CBS is patron of the project. Learn more about oikos Copenhagen - Students for Sustainability at https://www.oikos-copenhagen.com/cbs-green-week-2022.