Location
Copenhagen Business School
Solbjerg Plads 3
2000 Frederiksberg
Denmark
CBS Green Week 2022 will go deep on knowledge, tools and skills needed in our future careers of doing green and sustainable business.
About this event
How do sustainability and consulting blend?
In this session, Emma, Carolina and Felix from Nordic Sustainability will give an overview of the fast-moving fields of sustainability and consulting and how they are developing.
Starting off with an introduction to Nordic Sustainability's approach to creating and implementing actionable sustainability strategies , moving on to discuss career stories and opportunities within the field, taking you through the current corporate sustainability mega-trends, and rounding off with some questions and answers, this session will provide all of us with valuable insider reflections of the world of sustainability consulting.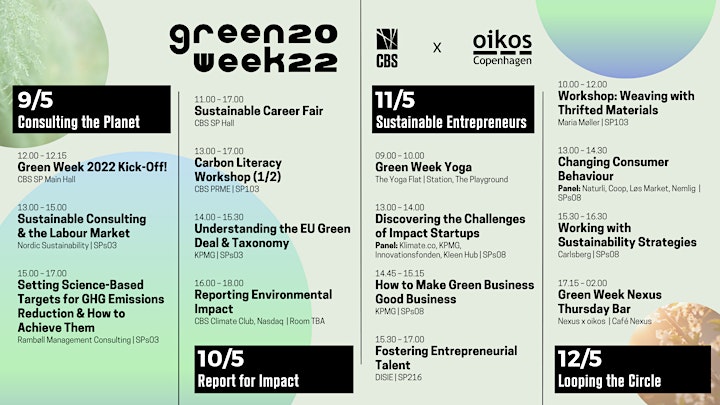 We hope to see you there!
The oikos team 🌱
About CBS Green Week
Green Week is one of the biggest student-led initiatives at Copenhagen Business School. It is oikos Copenhagen's flagship event and CBS is patron of the project. Learn more about oikos Copenhagen - Students for Sustainability at www.oikos-copenhagen.com/cbs-green-week-2022.