Location
Copenhagen Business School
Solbjerg Plads 3
2000 Frederiksberg
Denmark
CBS Green Week 2022 will go deep on knowledge, tools and skills needed in our future careers of doing green and sustainable business.
About this event
The event aims to contribute to the students' awareness of ESG reporting with a specific focus on the E, which stands for Environment. NASDAQ's Product Manager in Global Information Services will give the attendees interesting knowledge about the topic, which will be tested in the interactive quiz after the presentation. There will be prizes and an inspiring networking session afterwards, where the attendees have an opportunity to talk to each other and with Lise about the topic of ESG reporting.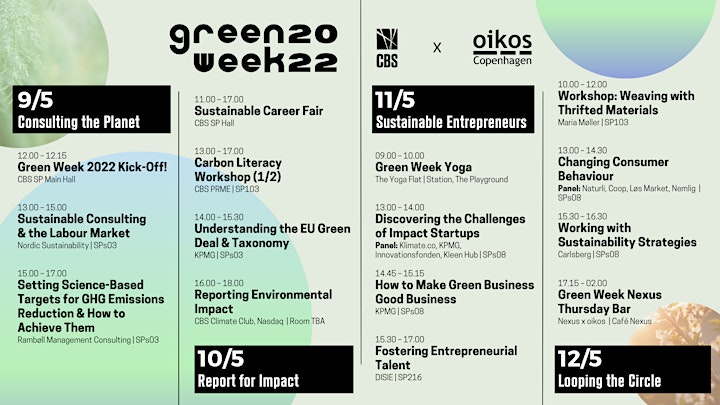 We hope to see you there!
The oikos team 🌱
About CBS Green Week
Green Week is one of the biggest student-led initiatives at Copenhagen Business School. It is oikos Copenhagen's flagship event and CBS is patron of the project. Learn more about oikos Copenhagen - Students for Sustainability at https://www.oikos-copenhagen.com/cbs-green-week-2022 .