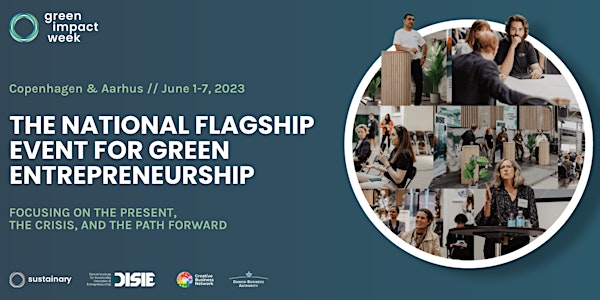 Green Impact Week
Join the national flagship event for sustainable innovation and entrepreneurship. Get inspired by speakers from all areas of green business!
Date and time
Tuesday, June 6 · 9am - 5pm CEST
Location
VOLUME 80 Enghavevej 2450 København Denmark
Agenda
9:30 AM - 10:00 AM
Opening of the Green Entrepreneurship Day
10:00 AM - 10:35 AM
Twin Transition and Blockchain
---
We explore the topic of twin transition and how Nordic countries can take the lead in this area. The twin transition involves the transformation towards both sustainable and digital economies. Our di...

10:35 AM - 11:10 AM
How do construction works affect life quality and well-being in urban areas ?
---
Cities are growing – and so are the nuisance levels caused by traffic, construction work, people and urban life overall. Noise and vibration, air pollution and lack of places to relax & connect with ...

11:10 AM - 11:45 AM
Green Jobs & Career Dialogue
---
The Job Hygge is developed together with City of Copenhagen. Get engaged with companies and Kopenhagen Municipality to talk about your opportunities within the Green Sector. Discover new job position...

11:45 AM - 12:20 PM
Green Talent Friendly Nation
Danielle Bjerre Lyndgaard
Signe Biering Nielsen// Tegan Spinner
---
Denmark has a strong brand in the world for sustainable solution, but what about being talent friendly and open to internationals?
12:20 PM - 12:55 PM
KlimateTech PPP (Private Public Procurement)
Ida Meulengracht Ginsborg
Nichlas Saul // Karen Brosbøl Wulf
---
A panel about 'How-To' do public procurement going green and how Green Solutions in the buying process is the way forward. KL and public buyers will come with their view and input as well as companie...

12:55 PM - 1:30 PM
Green Startup Ecosystem 2.0
---
Join our panel discussion on building communities and green startup economies! Discover how Israel's thriving startup ecosystem receives significantly more funding, and how Danish society can draw in...

1:30 PM - 2:05 PM
Minorities - Obstacles and Opportunities of Green Impact Founders
---
In this panel debate, we will discuss the obstacles faced by minority founders in Denmark when it comes to making a green impact. Our esteemed panellists will also explore the opportunities that coul...

2:05 PM - 2:40 PM
The Blue Transition - Innovation, Entrepreneurship, and Attracting New Talent
Cecilie Lykkegaard//Morten Rosenvold Villadsen
Asbjørn Overgaard Christiansen // Claus Frier
Thomas Kirk Sørensen //Michèle Holm
---
How can the blue transition, innovation and entrepreneurship help us solving the climate challenges? The ecosystems in the Ocean, are providing us with more than half of the oxygen on the planet. Yet...

2:40 PM - 3:15 PM
Green Jobs & Career Dialogue
3:15 PM - 3:50 PM
ESG & Assessment
---
In this panel debate, we will discuss ESG (Environmental, Social, and Governance) and CSRD (Corporate Sustainability Reporting Directive) and what it means for startups and SMEs. Our panelists will e...

3:50 PM - 4:25 PM
Green Crowdfunding - How to appeal to the masses
---
Join us for a panel discussion on the power of green crowdfunding and crowdlending for startups and SMEs. Learn from experts and successful founders as they share their experiences and insights, show...

4:25 PM - 5:00 PM
Urban Entrepreneurship Talent
---
The panel discussion on urban entrepreneurship will highlight the importance of engaging the young generation in co-creating sustainable solutions to the challenges faced by their cities. The focus w...

5:00 PM - 5:30 PM
Networking & Closing Time
About this event
Over the past 4 years, Green Impact Week has become the flagship event for sustainable innovation and entrepreneurship in Denmark and beyond. From engaging workshops to inspiring talks and networking opportunities, we've seen the power of collaboration and innovation firsthand.
Our past events have brought together thought leaders, sustainability professionals, and enthusiasts to drive positive change and work towards the UN Sustainable Development Goals. This year, with our co-hosts DISIE and Creative Business Network, and the support from Danish Business Authority, the Green Impact Week will reach 2 cities hosting international attendees, 10 talks per day, and multiple corporate partners. This event brings together talents, investors, buyers, public sectors, universities, and businesses to create an ecosystem for sustainable corporations!
On the 6th of June, we will focus on the present, the crisis and the path forward. Our many speakers will share their expertise on the pressing matters of today's business world. Join the discussion, and come make meaningful connections!
About the organizer
We are a global platform for sustainable collaboration rooted in technological advancement. We stand for Greentech and innovation and our purpose is to support and help develop green startups, small businesses and set green innovation into motion.