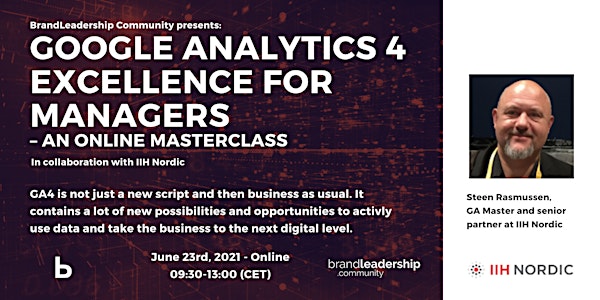 Google Analytics 4 Excellence for Managers – An Online Masterclass
What every manager should know about GA4
About this event
"Mega-motivating session. Already started acting same day and have clear ideas for activities the coming weeks which will hopefully take our use of analytics and GA4 to the next level"
Dorus Arts, Marketing Manager, Zijm BV
Value and context
With a migration to Google Analytics 4 required by all users of Google Analytics in the next 12 months this is the time to understand what the challenges and opportunities are.
Because Google Analytics 4 is not just analytics as usual.
A lot of the core elements have been changed and a lot of new opportunities have been included to totally transform the platform, but it also changes what you need to know as manager or analytics responsible to make sure that you are getting full value from all these changes.
So what's new?
With new engines for machine learning and prediction, with a stronger connection to Google Cloud and with a focus on activation of data Google have completely changed the agenda with analytics from simple insight to actionable intelligent recommendations.
About your host
To ensure all this knowledge is transferred we have invited Steen Rasmussen one of the leading specialists in the world on the commercial use of analytics data generally and Google Analytics 4 specifically.
What you'll learn
During this Masterclass he will deep dive into what you need to know about GA4 as a manager and how to make sure it is gathered, integrated, analyzed and activated to best support the business objectives and goals.
The bigger picture
The objective of this masterclass is to put you in control of all these opportunities as a manager, to enable you to orchestrate data and help you deliver a specific and clearly measurable return on analytics.
Summary of what you learn 
During the masterclass you will learn:
How to create tangible business value with GA4
The managers perspective on activation of data in GA4
How prediction and machine learning in GA4 supports your business
Defining, developing and monitoring the business with GA4
Considerations for integrating GA4 with other products
3 core insights for migration from the current version of analytics to the new one
In a nutshell: All you need to know as a leader to take advantage of the tool and to guide your people and partners to deliver GA4 excellence.
"with a new take on a well-known platform like Google Analytics it is really easy for management to miss the bigger picture, value and opportunity a brand new approach like GA4 offers – its is all about business"
For whom?
The session will be non-technical in nature. It will be focused on the business, strategic and operational side of Google Analytics and will be targeted at manager level and above with a focus on marketing managers, digital managers, CMO, CDO and similar who have a need to get an overview over the capabilities of GA4 but will not have technical or implementing duty.
"I was thoroughly inspired, and really appreciate a different, high level perspective. The fact that we did not open GA4 once, ensured we covered what I needed to know as a manager and did not get bogged down with set up and operational practicalities. I can recommend the session to anyone who needs to understand the full range of possibilities, power and potential of GA4 in a bigger business context."
Frank Dalhuisen, Head of Analytics, MaxLead BV
Program
09:30 – 10.00 The Bigger Picture - GA4 in a business context 

10.00 – 10:50 Marketing, Impact & Activation 

11:00 – 11:50 People – Going deeper into the Data 

12:00 – 12:50 Beyond Analytics – The Next Frontier

12:50 – 13:00 End of the Road – A perspective
Please note – Limited Number of Tickets – only 25 Seats available
Biography
Steen is one of the leading specialists in the world when it comes commercial analytics. He has worked with Google Analytics since the beginning and have been an external trainer in Google Analytics across Europe for Google. 


Based in Copenhagen he has over the last 10 years been keynoting on commercial analytics and getting business value from Google Analytics from Silicon Valley and Vancouver over most of Europe to Dubai and Mumbai.
With client experience ranging from Apple, LEGO, IKEA to Cisco and L'Oreal he understands the complexity of digital analytics in a business context. IIH Nordic, the agency he co-founded in 2003 have since then 7 times been voted best analytics house in Denmark and have 4 times been nominated as the best data agency in the world.