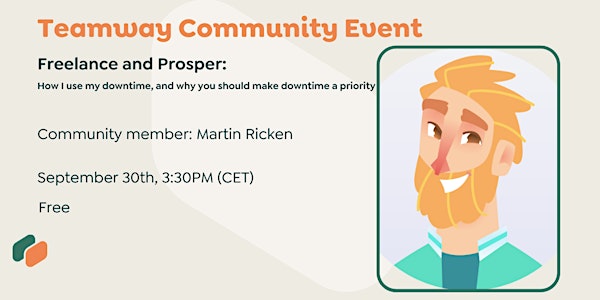 Freelance and Prosper - How I use my downtime (Work-life balance)
Freelance and Prosper: How I use my downtime, and why you should make downtime a priority
About this event
This is a Teamway Community OPEN event.
The event is for anyone interested in the topic of being a successful Remote Freelancer.
Freelance and Prosper is a series of talks with QA about the freelance life, and how to prosper in a job that - to some - can feel very insecure, and not very stable.
Martin Ricken our community member has been a freelancer for almost 9 years, and in the series, he will share his experiences and how he handles them from a "holistic" point of view.
During the series, he will be going over 3 topics. They will each have a dedicated community event, so we have time to cover the topics, and he will make himself available for questions after.
The topic :
"How I use my downtime, and why you should make downtime a priority" are his thoughts about work-life balance and his - sometimes - lack thereof.
He will be covering the "Just one more contract" trap, a cautionary tale from my own life, what i use my own downtime for, and what it's like having time off when everyone else is at work.
Keep an eye out for the next events or follow us on Eventbrite.
We look forward to seeing you!
Agenda:
Best regards,
Teamway