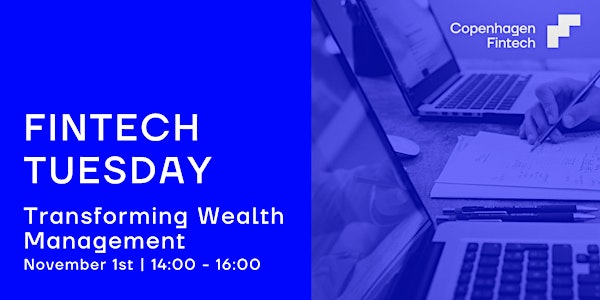 Fintech Tuesday - Transforming Wealth Management
Welcome to Fintech Tuesday hosted by Copenhagen Fintech
When and where
Location
Copenhagen FinTech Lab 7 Applebys Plads 1411 København Denmark
About this event
Welcome to Fintech Tuesday hosted by Copenhagen Fintech, where we combine the knowledge of industry stakeholders together with the newest research within the technical sciences.
This Fintech Tuesday will be about how to transform wealth management, for the benefits of clients, organizations and the planet. For this, we have invited some of the most highly regarded researchers and industry speakers within the area to present their groundbreaking solutions, current research and industry insights.
Join us for an afternoon of some of the greatest research, applications and minds within wealth management and explore its future potentials for the sector.
Program:
Welcome & Introduction by Copenhagen Fintech
Start-Up Perspective: Niels Fibæk-Jensen, Founder & CEO, Matter
Cutting through the ESG confusion is a key aspect of Matter's work. Matter makes it easier for investors to understand and report the sustainability impact of investments, without the greenwashing. By unlocking critical impact information across entire portfolios, Matter empowers investors to make their capital work for people and the planet.
Start-Up Perspective: Crispin Rolt, CCO, Performativ
Performativ utilises modern technology to bring a true SaaS wealth management platform to investment advisors, wealth managers and banks, with no IT implementation required. By leveraging proprietary AI assisted integration engine, Performativ automatically retrieves, cleans and enriches custodian data from 100+ custodians. The complete wealth, including all non-bankable assets e.g. PE and real estate, of the client is made available. This ends up creating more time for the asset manager to drive value, and better portfolio insights for their clients.
Research Perspective: Caspar Rose, Associate Professor, CBS
Caspar Rose has focused extensively on corporate governance, financial markets/institutions as well as the regulation of capital markets in his research. He has published extensively in both Danish and International journals. His research is characterized as being very multi disciplinary in nature since he relies very much on his educational background as a lawyer as well as an economist (with a Ph.D. in finance). In the coming years, Caspar Rose intends to study the dynamics of M&A's e.g. what determines the price premium offered to the target shareholders.