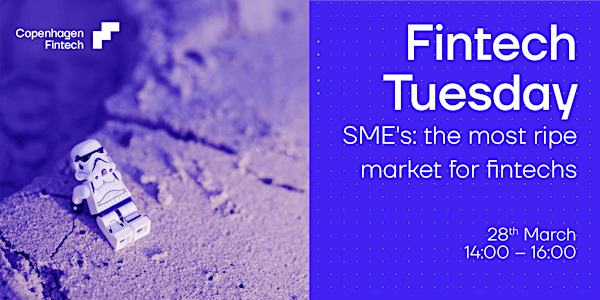 Fintech Tuesday - SME's: the most ripe market for fintech's
Welcome to Fintech Tuesday hosted by Copenhagen Fintech
Date and time
Tue, Mar 28, 2023 2:00 PM - 4:00 PM CEST
Location
Copenhagen FinTech Lab 7 Applebys Plads 1411 København Denmark
About this event
Welcome to Fintech Tuesday hosted by Copenhagen Fintech, where we combine the knowledge of industry stakeholders together with the newest research available.
This Fintech Tuesday will be about how fintech's work within what may be the ripest market out there, namely digitizing SME's. Changing administration and simplifying processes from everything within budgeting, salaries, pension and more if up for grabs in SME's. At this event you will get insights into different aspects of research and start-up cases that work to change the SME space for the future.
Join us for an afternoon of some of the greatest research, applications and minds within the area and explore fintech's potential to create change.
Program:
Welcome & Introduction by Copenhagen Fintech
Research Perspective: Thomas Ritter, Professor, Copenhagen Business School
Thomas Ritter is a professor in Market Strategy & Business Development, focusing mainly on commercial competence. Thomas is a key driver in the big 3-year research project called "Brug Kundedata" focused on how SME's can use their customer data in more valuable ways. Many SME's are not focused on using the customer data they already have access to, and therefore miss out on leveraging insights for their own growth potential, such as customer segmentation and commercial growth.
Start-Up Perspective: Thomas Helms, CEO & Founder, Crispa
Crispa is the financial operating system for digital businesses, an accounting & forecasting platform tailormade for SaaS/fintech/marketplace businesses. Crispa will help you create high quality accounting measures from the earliest of stages of your company building. This will help yourself, your stakeholders, board and investors have the best overview of your business metrics from the beginning.
Start-Up Perspective: William Pontoppidan, CEO & Co-Founder, Francis
Francis was created out of MIT by three Danish co-founders, whose frustrating experiences managing business finances in traditional spreadsheets let them to build Francis. Francis is a platform to manage budgets, financial performance and reports for SME's. By using Francis, you will get top tier insights into actuals compared to forecasts, and the abillity to compare real time business data in budgets.
About the organiser
Anchored in the Nordic region's renowned design and digital traditions, Copenhagen Fintech strives to support human-centric financial solutions with potential to shape our global society.