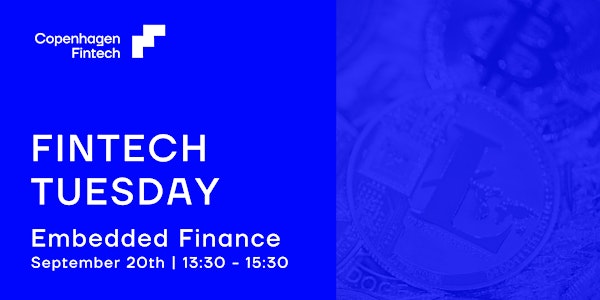 Fintech Tuesday - Embedded Finance
Welcome to Fintech Tuesday hosted by Copenhagen Fintech
About this event
This months Fintech Tuesday will be ONLINE only!
Welcome to Fintech Tuesday hosted by Copenhagen Fintech, where we combine the knowledge of industry stakeholders together with the newest research within the technical sciences.
This Fintech Tuesday will be about how embedded finance is creating vast innovation in the world. For this, we have invited some of the most highly regarded researchers and industry speakers within the area to present their groundbreaking solutions, current research and industry insights.
Join us for an afternoon of some of the greatest research, applications and minds within embedded finance and explore its future potentials for the sector.
Program:
Welcome & Introduction by Copenhagen Fintech
Research Perspective: Rob Gleasure, Associate Professor, Copenhagen Business School
Rob Gleasure is Associate Professor at the Department of Digitalization, Copenhagen Business School. He received his PhD from University College Cork in 2013 and his interests include crowds/online communities, distributed collaboration, design, and neuroIS. Rob is an Associate Editor for the European Journal of Information Systems, a former Co-Editor in Chief for the Journal of Decision Systems, a Founding Member of the AIS SIGOPEN, and he has performed a range of different Chair roles for international conferences. Rob will focus on how crowdfunding solutions can work in an embedded way.
Start-Up Perspective: Cisela Klahr, Business Development Manager, bsurance
bsurance is a leading B2B2C, white-label Insurtech focused on Embedded Insurance. As an enabler with both SaaS and MGA capacity, they provide Insurance-as-a-Service, including product development, onboarding, and real-time policy issuing, FNOL, claims handling and settlements.
Founded in Vienna in November 2017, bsurance has partnered with insurers like Allianz, AXA, R+V, Munich Re, WAKAM and Uniqa. They are currently active in 8 European countries, supporting B2C companies in a variety of industries.
Cisela Klahr is an experienced sales professional who has been working in tech for over 13 years prior to joining bsurance in 2021. She started her career at Microsoft Austria and has worked for both large companies and SMEs before getting aboard the Viennese start-up.
Start-Up Perspective: Pico Petershagen, Head of Marketing, Swan.io
Swan simplifies embedding banking features into your product. Via Swan's simple APIs, European companies can integrate banking services (accounts, cards, and IBANs) quickly and easily into their own product. Co-founded in 2019 with start-up Studio eFounders, Swan received a 5M€ Seed led by Creandum in 2020 and a 16M€ Series A led by Accel in 2021.
Listed in "Europe's rising 100" by Sifted, Swan is currently expanding across Europe. Additional offices are opening in Germany and Spain, and the global team is projected to reach 100 by fall. Swan is a Mastercard principal member and a licensed financial institution, regulated by the ACPR.
Pico Petershagen is the Head of Marketing of Swan.io. Prior to joining Swan in 2021, he worked in Strategy Consulting at BCG focused on banking transformations as well as Venture Capital at HV Capital. Pico holds a degree from the University of Muenster and Harvard College.