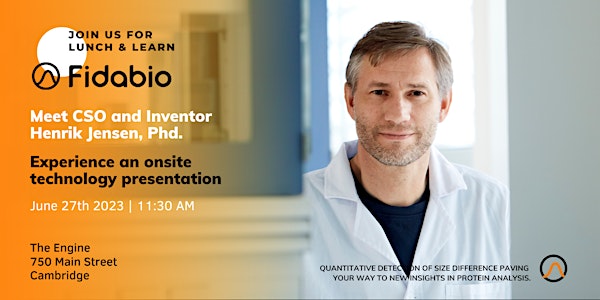 FIDA Technology Presentation
We are delighted to invite you to a presentation of the Fidabio technology and a plenum discussion with our inventor and CSO Henrik Jensen.
Date and time
Tuesday, June 27 · 11:30am - 1:30pm EDT
Location
The Engine 750 Main Street Garage, 4th floor Conference Cambridge, MA 02139
About this event
Why not make your lunch more productive?
FIDA is a first-principle-based technology used worldwide in diverse areas of biomolecular research. From drug development to protein production and processing, as well as cryo-EM, the FIDA platform stimulates innovation and shortens workflows across industries.
On June 27th, you will have the opportunity to meet Henrik Jensen, PhD, the CSO and Inventor of Fida 1, for an onsite technology presentation. Henrik will introduce the principles behind FIDA and provide an overview of its usage for rapid assessment of sample quality, stability, and functional interaction studies. Ample time will be available for Q&A and discussion, exploring the relevance of FIDA technology in your research field.
Curious for details?
Flow Induced Dispersion Analysis (FIDA) was developed by Henrik and Jesper Østergaard - esteemed professors at the Institute of Pharmacy at the University of Copenhagen.
The development of FIDA was motivated by the challenge of performing in-solution quantitative measurements on complex compounds, which were difficult to analyze using existing technologies.
Originally conceived as a solution to their own research needs, the potential of FIDA technology became evident, leading the professors to make it available to other researchers around the world.
Today, FIDA technology has become a widely recognized and powerful tool for investigating the behavior of biomolecules in solution. Its versatility and reliability have made it a valuable resource for researchers across a diverse range of industries and academic disciplines. Whether studying the mechanisms of protein aggregation, evaluating the quality of biopharmaceutical products, or investigating the properties of nanoparticles, FIDA provides accurate and quantitative data that is essential for scientific progress.
Come and join us to enjoy a lunch that not only satisfies your appetite but also stimulates your intellect, facilitates networking, and inspires innovative thinking. We are looking forward to seeing you!
In case you can not attend feel free to drop a line directly to mays@fidabio.com - we will ensure to answer your questions online.