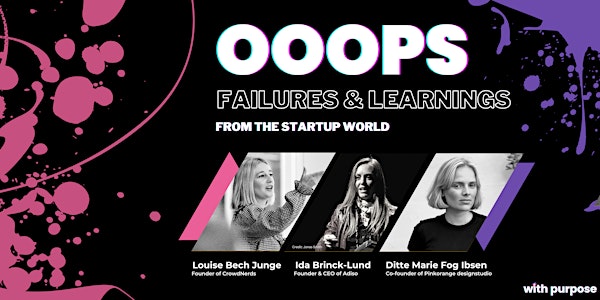 Failures & Learnings from the Startup World | Ooops Nights
With Purpose invites you to their monthly event series, where stories about failure and learnings from the startup world are shared.
When and where
Location
The Archive House Hauser Plads 20 1127 København K Denmark
About this event
For our second Ooops night , we have invited Louise Bech Junge & Ida Brinck-Lund to share professional failures from their entrepreneurial journey as well as learnings on how to overcome fear of failure.
Louise Bech Junge is the founder of CrowdNerds. CrowdNerds was founded with a vision to spread crowdsourcing and crowdfunding to Danes. Louise has helped startups raise several hundred thousand kroner in crowdfunding campaigns and guides companies in how they use crowdfunding to, for example, develop their business and their products. She has lectured on crowdfunding in, among others, Technological Institute and together with the Danish Entrepreneurs' Association.
Ida Brinck-Lund is the founder of Adiso ApS. The company aims to improve individuals' mental health by creating green spaces in indoor and out settings. As mental health is becoming more problematic, Ida focuses on developing a way to create and implement green design beneficial to people. With grand experience in interactive designing, she shifted her focus to designing mental strengthening spaces.
Ditte Marie Fog Ibsen is the co-founder of Pinkorange design studio. Pinkorange is an entrepreneurial design and execution team with a passion for women-centred design for, with, and by women based on pain points observed in their daily lives. They believe it's time to not only design for men but for all humans, as industrial design products that we use in our daily lives, like our phones and cars, have traditionally been designed by default for an average male body size, weight, shape and function.