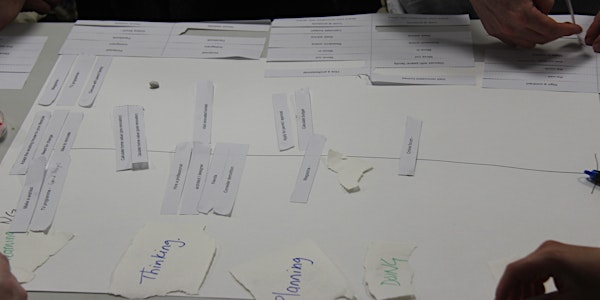 Facilitating transitions: participatory design & practice theories
A toolkit combining practice theories and participatory design to facilitate sustainability transitions.
When and where
Location
IT University of Copenhagen 7 Rued Langgaards Vej 2300 København Denmark
About this event
Join us for a 3-hour workshop , which is part of the Participatory Design Nordic Place 2 day event, being inspired by and taking place after the end of the Participatory Design Conference (PDC) 2022.
For more information please see: https://pdc2022.org/places/nordicdn/
Resource-intensive consumption of the affluent societies of the world has resulted in a global ecological crisis. The situation calls for thorough transitions of the way we organise societies and everyday lives, including the technologies and socio-technical systems that permeate our resource-intensive social practices and are co-shaping these. Embarking from the idea that new approaches to the design of sustainable everyday practices are needed to break the current deadlock, we suggest a new approach to the design of transitions of everyday life, which draws on participatory and co-design methods and has people's everyday practices at the centre of design processes. The workshop will explore the opportunities that this approach can offer to current transitions, such as in the sectors of energy, building renovation, food and mobility. The workshop will be a first attempt to put together a toolkit, comprising of practice theoretical principles and participatory design methods.
Goal/expected outcome: To open the discussion about the need to develop new tools for engaging with sustainability transitions using participants' everyday life experiences
Target audience: Individuals and organisations engaging in transition projects, such as:
municipality representatives, NGOs, researchers, private consultancies, building professionals, engineers, energy communities' representatives, citizens' transition movements etc.
Facilitators:
Aggeliki Aggeli, Postdoctoral researcher at BUILD, AAU
Toke Haunstrup Bach Christensen, Senior Researcher at BUILD, AAU
Sirid Bonderup, Postdoctoral researcher at BUILD, AAU
Fernanda Guasselli, PHD candidate at BUILD, AAU
Please note: The workshop will run as a face-to-face event only.