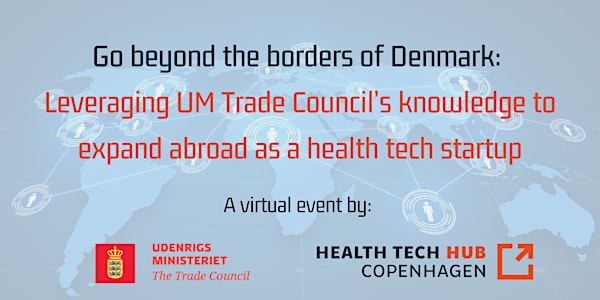 Expanding abroad: Get a head start with the DK embassies and Trade Council
How health tech startups can get local market insights & assistance from the Danish embassies and the Trade Council to scale internationally
About this event
Expanding abroad: How Denmark's embassies and The Trade Council can provide health tech startups with local market insights and advisory support to scale internationally
On March 11th the Danish Trade Council (UM) will join us to tell you about how they can assist you when expanding abroad. The Danish embassies and Trade Council have enormous local knowledge, which you can tap into.
Learn how, at this upcoming event. Sign up today to secure your spot!
Agenda:
14.00 Welcome
14.05 Introduction to HTHC & UM
14.15 UM / Trade Council in a nutshell
14.35 Health Tech Start-up internationalisation cases: Visiana & O2matic
15.15 Q&A
15.30 Thank you
Sign up now for this virtual event. There is a limited number of seats.
Please note: This is a virtual event. Participants will be provided with a link prior to the event date via email.