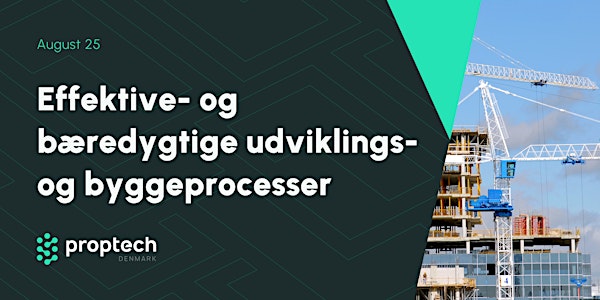 Effektive- og bæredygtige udviklings- og byggeprocesser
Vær med når vi dykker ned i, hvordan nye løsninger og teknologier kan gøre udviklings- og byggeprojekter mere effektive og bæredygtige
When and where
Location
BLOXHUB 8 Bryghusgade 1473 København Denmark
About this event
Hvordan kan nye løsninger og teknologier være med til at gøre udviklings- og byggeprojekter mere effektive og bæredygtige?
Bygge- og ejendomsbranchen presses i stigende grad af høje udviklings- og byggeomkostninger og hastigt øgede krav til bæredygtighed fra både myndigheder, samarbejdspartnere og forbrugerne. Kompleksiteten af bygge- og udviklingsprojekter bliver hele tiden større, hvilket igen stiller nye krav til projektstyringen og øger behovet for tættere samarbejde mellem investorer, udviklere, rådgivere og entreprenører
Netop nu ser vi dog også et væld af nye løsninger og teknologier spire frem inden for byggeriet. Dette er både løsninger, der hjælper med styre komplekse bygge- og udviklingsprocesser mere effektivt og bæredygtigt men også nye teknologier og tilgange, der mere fundamentalt forandrer måden vi udvikler og bygger på.
Vær derfor med den 25. august når vi dykker ned i, hvordan nye teknologier kan være med til at gøre udviklings- og byggeprojekter mere effektive og bæredygtige og hvordan proptech- og contechløsninger kan hjælpe os med eksempelvis økonomi - og byggestyring, lette samarbejde og kommunikation og understøtte bæredygtighedprocesser. Der vil både være præsentationer fra en række spændende proptech- og contech-virksomheder samt debat, hvor vi sætter førende investorer, udviklere og entreprenører i stævne og hører om deres strategier og erfaringer med at anvende nye teknologier.
Præsentationer omkring løsninger og teknologier fra:
Estabild, Pablo Roldos, CEO
Frame, Jesper Ring, CEO
Cobod International, Alma Bangsgaard, Architect & Project Manager
Exigo, Kristian Birch Pedersen, CEO
Paneldebat:
Rambøll, Hans Peter Faber Mølholm, Head of Department i Construction Management Northwest
Pension Danmark, Jens Breinholt, Projektdirektør
NPV, Jonathan Leonardsen, Head of Sustainability
Member Thursday Bar:
Denne gang har vi kombineret vores populære Member Thursday Bar med eventet, så udnyt muligheden for at blive og netværke med PropTech Danmarks community.
English:
Join us on the 25th of August where we will take a deep dive into how new proptech and contech solutions and technologies are changing construction and development processes making them more efficient and sustainable. There will be presentations from new innovative solutions providers as well as debates with leading property investors, developers and contractors on their strategies and experiences in making construction more efficient and sustainable. The event will mostly be in Danish.