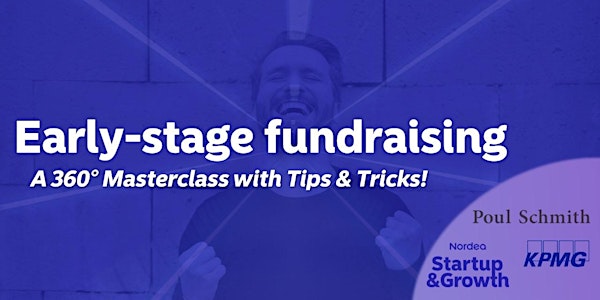 Early-stage fundraising: A 360° Masterclass with Tips & Tricks!
KPMG, Nordea og Poul Schmith inviterer founders til gratis masterclass med praktiske anbefalinger ifm. første investeringsrunde!
By Nordea Startup & Growth
Date and time
Tuesday, October 10 · 4 - 7pm CEST
Location
KPMG & Nordea Frederiks Plads 40-42 8000 Aarhus Denmark
About this event
KPMG, Nordea Startup & Growth og Poul Schmith inviterer d. 11/5 til en 360 graders masterclass målrettet early-stage startups. Med afsæt i den tidlige kapitalsøgende fase sætter vi fokus på Valuation, Pitch Deck og Legal med formålet om at give founders råd og praktiske anbefalinger forud for deres første investeringsrunde!
KPMG præsenterer værktøjer ifm. værdiansættelsen af din startup, Nordea Startup & Growth snakker nærmere omkring, hvordan du sammensætter dit pitch deck ud fra et investor-perspektiv, og Poul Schmith gennemgår relevante juridiske overvejelser forud for den første investor-dialog. Agendaen er, at du, som founder, skal blive klædt godt på forud for investor-pitches og dialoger.
Program for dagen:
15.45-16.00: Ankomst
16.00-17.00: Masterclass
17.00-19.00: Netværk & Sparring med Tapas & Drinks
Efter præsentation vil der være rig mulighed for at spare og stille spørgsmål til oplægsholdere samt netværke med deltagende startups!
Arrangementet inkuderer gratis tapas og drikkevarer. OBS: Der er begrænset antal billetter.
Vi ser frem til at møde jer!
Deadline for tilmelding: 6. Oktober 2023
Læs mere omkring arrangørerne her: