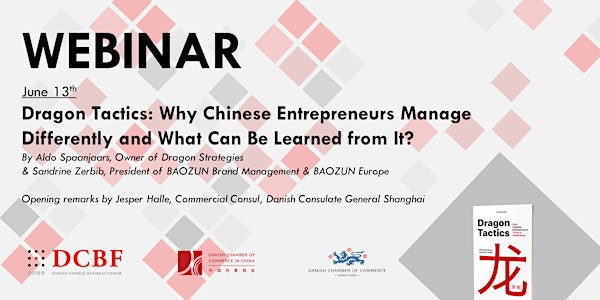 Dragon Tactics: Why Chinese Entrepreneurs Manage Differently
Management | Culture | Competition
By DCBF, DCC HK and DCCC North, East and South China
Date and time
Tue, 13 Jun 2023 00:00 - 01:00 PDT
About this event
Aldo Spaanjaars, Owner of Dragon Strategies, together with Sandrine Zerbib, President of BAOZUN Brand Management & BAOZUN Europe, has co-authored the intriguing book "Dragon Tactics: How Chinese Entrepreneurs Thrive in Uncertainty" (2022), which presents a potent mix of China's four-thousand-year-old history, and management methods that borrow as much from Confucianism as from new technologies.
In this webinar, they will explore a unique approach to business by analysing everything from the unexpected philosophies of Chinese leaders on competition, risk, profit, and failure to the role of family, which define the cultural spirit of a wolf pack: its observation skills, its respect of the leader's authority, its embrace of flexibility, and more.
Opening remarks by Jesper Halle, Commercial Consul, Danish Consulate General, Shanghai.
Please contact info@dcbf.dk if you have any questions.