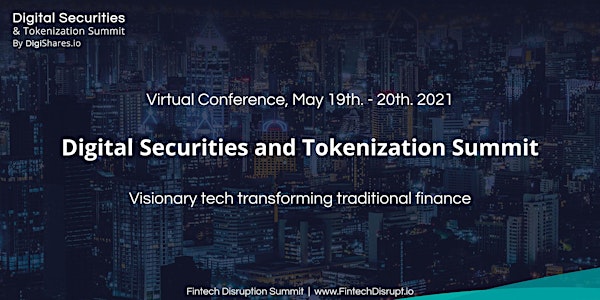 Digital Securities & Tokenization Summit
Attend the Digital Securities & Tokenization Summit
About this event
The Digital Securities & Tokenization Summit is a yearly summit, which focuses on the implementation of blockchain within the traditional finance industry.
The goal of the conference is to educate, inform and inspire delegates about new and innovative opportunities with blockchain technology in the financial industry and in particular with the tokenization of securities and assets.
Learn everything you need to know about what is happening in the world of tokenization by joining this years summit. You will hear from leading figures and you will gain new perspective on how established companies are renewing their business by introducing blockchain for tokenization.
This year we have a fantastic speaker list including:
• Solomon Tesfaye; Head of Business Development & Capital Markets at tZERO
• Thomas Borrel; Chief Product Officer at Polymath
• Brett Tejpaul; Head of Institutional at Coinbase
• Kyle Sonlin; CEO at Security Token Market.
• Tim Grant; SIX Digital Exchange
• Guido Buehler; Chief Executive Officer SEBA Bank
• Graham Rodford; Founding & CEO Archax
• Bernhard Blaha; CEO of Blocktrade
See the entire speaker list here:
Learn more at: https://fintechdisrupt.io