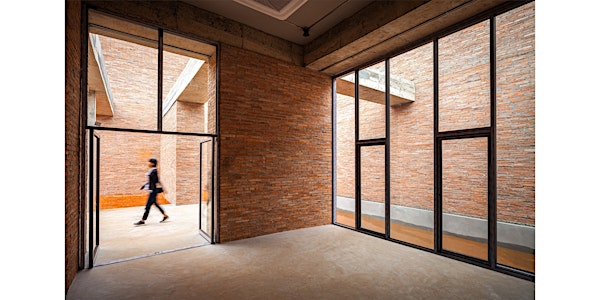 Designing for the senses. A Daylight Talk by Boonserm Premthada
Designing for the senses. A Daylight Talk by Boonserm Premthada
About this event
Daylight Talk arranged by professor Jana Revedin, the École Spéciale d'Architecture (ESA), Paris.
Boonserm Premthada argues that architecture is the physical creation of an atmosphere, serving to heighten our awareness of our natural surroundings. In this lecture, he discusses a variety of his work, considering the manipulation of light, shadow, wind, sound, and smell, alongside the socio-economic and cultural agenda, with many of his projects including programmes to improve equality.
About the studio
Architect and artist, Boonserm Premthada is Assistant Professor at the Faculty of Architecture at Chulalongkorn University and Founder of Bangkok Project Studio. Boonserm's work has won many international awards including, the ar+d Award for Emerging Architecture in 2011. He has also been shortlisted for the Aga Khan Awards for Architecture 2013, the Grand Prize International Brick Architecture 2014, The Plan Awards 2017, the Design for Asia Awards 2017, and the Royal Academy Dorfman Awards 2019. He is the laureate of the Global Award for Sustainable Architecture 2018. Boonserm has lectured and exhibited at the Royal Institute of British Architects (RIBA), the Venice Biennale 2018, École Polytechnique Fédérale de Lausanne (EPFL), the Indian Institute of Architects, University of Tokyo, University of Hong Kong, National University of Singapore and several other international universities.
About Jana Revedin
Born in Constance (Germany), Jana Revedin is an architect, theorist and writer. She graduated from the Politecnico of Milan and is a doctor of architecture and urban planning at IUAV University in Venice, qualified to direct research. A professor of architecture and urban planning at the École Spéciale d'Architecture in Paris, she is a member of the LAURE research laboratory "Environment, city, society" (CNRS) and the UNESCO delegate to the Education and Research Commission of the UIA.
About École Spéciale d'Architecture
ESA, the School of Transversality, is a free, international school open to developments in the contemporary world. Recognized as a public utility since 1870 and member of the Conférence des Grandes Écoles since 2010, it is the only private school of architecture in France. A complete presentation of the Special School can be consulted in the ESA Notebook.
About Daylight Talks
The "Daylight Talks" is a new series of digital events, organized by the VELUX Group. The talks explore the significance of natural light in architecture and present prominent architects and educators working consciously and qualitatively with daylight in their projects and educational programmes. The talks are organised in collaboration with individual schools of architecture and they are endorsed by the International Union of Architects (UIA) and the European Association for Architectural Education (EAAE).
8 exciting talks are scheduled for 2021.
Stay tuned here for calendar updates or follow us on Instagram to ensure you don't miss a talk.