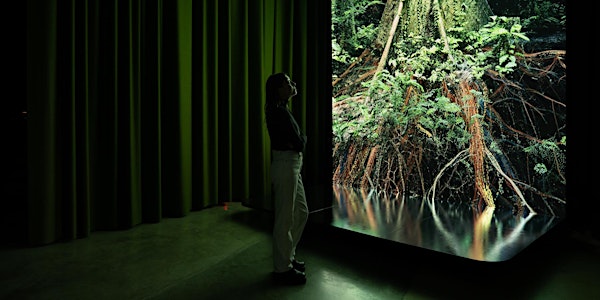 Defiant Joy: Creativity in the Climate Emergency
An immersive evening exploring what future societies could look like if we take a hopeful, life-centred approach to design.
Date and time
Wed, 29 Mar 2023 17:30 - 20:30 CEST
Location
SPACE10 10 Flæsketorvet 1711 København Denmark
About this event
As design conversations shift towards regeneration and symbiotic relationships with nature, we ask: what would societies look like if we designed with respect for all species, not just humankind? And how can joy and hope help us to create a better future for people and the planet?
Led by FranklinTill's Caroline Till, and Kate Keara Pelen and Abbi Fletcher of the Climate Emergency Network, this event explores the role of design and creativity in helping us move from a human-centred to life-centred mindset. The evening will celebrate the energising power of creativity, joy, and hope amid the global climate emergency.
Taking place at our Copenhagen HQ, this event is inspired by Our Time on Earth, the recent exhibition guest curated by FranklinTill at London's Barbican, and re-opening this summer at the Musée de la Civilisation in Quebec.
About the speakers
Caroline Till is co-founder of FranklinTill, a futures research agency working with global brands and organisations to activate design and material innovation for positive social and environmental change. She is co-author of Radical Matter: Rethinking Materials for a Sustainable Future, and former course director for Material Futures at Central Saint Martins college of Art & Design. Caroline is also guest curator of exhibition Our Time on Earth, which opens this summer in Quebec.
Kate Keara Pelen and Abbi Fletcher are the founder and manager of Climate Emergency Network (CEN) at University of the Arts London (UAL). Non-hierarchical, distributed and ever-evolving, the Network channels creativity into climate action across UAL's multiple colleges, Research Centres and Institutes. It welcomes the whole community, from undergraduate students to esteemed professors, support staff, alumni and friends. The Network has collaborated with partners such as The Barbican, Letters to the Earth, Culture Declares Emergency, It's Freezing in LA!, Architects Climate Action Network, Extinction Rebellion and others. Recent projects include Carnival of Crisis, Earth Day: Appetite for Justice, A Movement in the Making, and Earth Quest.
Sheila Fakurnejad works in strategy and production at SPACE10.
About the organiser
SPACE10 is a research and design lab on a mission to create a better everyday life for people and planet.