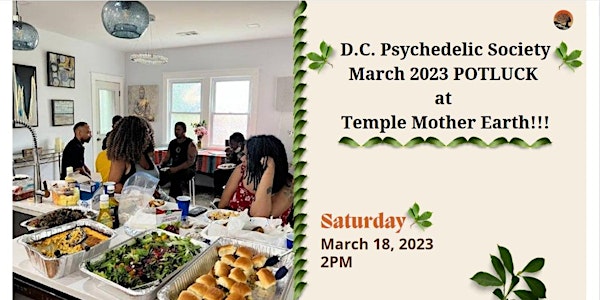 D.C. Psychedelic Society March 2023 POTLUCK!!!
Please join the DC Psychedelic Society and Temple Mother Earth to create community :)
By D.C. Psychedelic Society
Date and time
Saturday, March 18 · 2 - 5pm EDT
Location
Washington, DC Washington Washington, DC 20020
About this event
D.C. Psychedelic Society March 2023 POTLUCK at Temple Mother Earth!!!
Saturday, March 18, 2023 2:00 pm
Please join the DC Psychedelic Society to meet the local community, eat food that you help provide, talk about what you'd like to create, what you have experienced, what you're curious about when it comes to psychedelics and psychedelic-assisted therapies.
Please bring drinks, snacks, and all your questions!
This potluck is happening in a temple and place of worship in DC so we ask that you respect the space and leave no trace by cleaning up the place. All gratitude to Temple Mother Earth for letting us use their space for this potluck! @TempleMotherEarth is a sacred space for all to gather to unfold and allow.
A kitchen is available for you to heat up food.
PLEASE RSVP and also, let us know what you are planning to bring! We will create and update a list of needed and confirmed food, drinks, etc.
Street parking is available but scarce, so we suggest that you either carpool, metro, or use your car service of choice to get here.
Please contact us below with any questions you may have to include parking (very bad idea!), directions or accessibility.
NOTE: This is our first potluck since the start of the Covid pandemic. If you are not comfortable sharing food with others, you bring food for yourself, but please mark as not to be shared.
The DC Psychedelic Society & tme are gathering in community to brings together individuals who are interested in the therapeutic and spiritual benefits of psychedelics. Gathering in this community is important for a number of reasons.
First and foremost, the DC Psychedelic Society provides a safe and supportive space for individuals to share their experiences, knowledge, and insights about psychedelics. This exchange of information is invaluable, as it allows members to learn from one another and deepen their understanding of these substances.
Additionally, community gatherings provide an opportunity for members to connect with like-minded individuals who share their interests and beliefs. This sense of belonging and connection can be especially important for individuals who may feel isolated or marginalized in their everyday lives
IMPORTANT DISCLAIMER: This is a social gathering and a space for community/education. We do not condone or encourage the use or sale of illegal substances. This is absolutely NOT THE PLACE TO OBTAIN OR CONSUME ANY ILLEGAL SUBSTANCES
About the organizer
D.C. Psychedelic Society exists to create a safe space to discuss psychedelics. We offer community connection, education, and harm reduction.