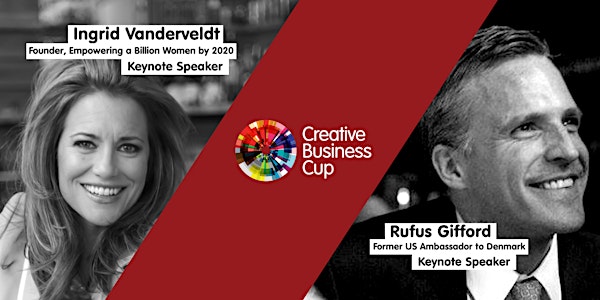 Creative Business Cup Global Finals 2018
When and where
Location
KEA - Københavns Erhvervsakademi Guldbergsgade 29E, 2200 København 2200 Nørrebrogade Denmark
Description
Please remember to bring your ticket printed or on your mobile to the event. Your ticket is your entrance voucher and proof of payment/participation. Upon arrival, your ticket will be changed to your participants pass at the welcome counter.
Join us for global networking and creativity

We are ready with the 7th annual Creative Business Cup Global Finals! At the Global Finals, you can meet over 100 creative startups and support organizations from all over the world. Not only startups but also incredibly talented creatives, powerful investors and global influencers will connect together under one roof.
The CBC Global Finals will be held in Copenhagen on the 27 November 2018. Broaden your knowledge with workshops, panel debates, networking sessions, investor pitches and conversations with creatives from around the world. You can also witness the top 5 most creative startups in the world compete for the top prize in the Global Finals pitch competition!

PRICES FOR TICKETS ARE €49 UNTIL 1 NOVEMBER, AFTER THIS DATE €69.
Date & Venue:
Tuesday, 27 November 2018
Venue: Københavns Erhvervsakademi (KEA), Guldbergsgade 29E, 2200 København
Program:
Available as a downloadable PDF here!
Check out our Facebook event for the latest updates, and use #CBCup2018 to join the conversation on social media!
Hotels:
See our list of recommended hotels here.
WHO WE ARE:
Creative Business Cup empowers entrepreneurs in the creative industries, connects them to investors and global markets and strengthens their innovative capabilities to the benefit of industry and society. Learn more about us here and visit our website for other great content.