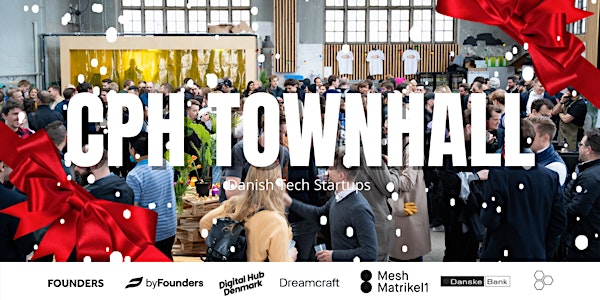 CPH Townhall IV
CPH Townhall - Winter edition!
When and where
Location
CBS Ovnhallen 24A Porcelænshaven 2000 Frederiksberg Denmark
About this event
HELLO COPENHAGEN! 🎄🌙🤖
Join us for a very festive edition of CPH Townhall to round out another wild year in the tech industry. You can expect the usual magic that happens when we bring 500+ tech founders, company builders and investors together under one roof for an evening of good drinks, good people and good energy.
We have put together a light but juicy program designed to extract valuable, actionable learnings and provide an overview of where we sit in the wider European and global tech industry. With plenty of time to socialise over a cold beer and a bite to eat, of course. Come reconnect with your friends from across the Danish tech community, meet your next hire or maybe even cook up something new.
A huge thanks to our main event partner Digital Hub Denmark and our wonderful community partners Dreamcraft Ventures, byFounders, Danske Bank and Matrikel1. We are also happy to be working with CSE who are hosting us in their lovely home this time around.
✨✨✨✨✨✨✨✨✨✨✨✨✨✨✨✨✨✨✨✨✨✨✨✨✨✨✨✨✨✨✨✨✨✨✨✨
Townhall Program
17.00 - Doors and bar open at CBS Ovnhallen. We also have a bunch of bagels from Depanneur this time. Arrive early to avoid disappointment! ✨
18.00 - Welcome to CPH Townhall 🙌🏼
18.05 - 'Opening up about closing down' - A conversation between four founders who have chosen to shut down or part ways with their companies - talking about managing the process, surviving as an individual and what comes next. We are extraordinarily happy to welcome Neil Murray, founder of Playmaker, Charlotta Tönsgård founder of Kind, Marie Mathiesen founder of Qvest and Jasenko Hadzic founder of Tame to share their journeys on stage. 💪
18.30 - Community shout-outs ❤️
18.35 - Fireside talk: David Heinemeier Hansson, creator of Ruby on Rails, co-founder of Basecamp and Le Mans class-winning racing driver in conversation with Zenia W. Francker, director of platform at Seed Capital talking building companies in an unconventional way, definitions of ambition and success and David's journey from the US back home to Denmark.👾
19.00 - Beer time 🍻
21.00 - Home ❣️
✨✨✨✨✨✨✨✨✨✨✨✨✨✨✨✨✨✨✨✨✨✨✨✨✨✨✨✨✨✨✨✨✨✨✨✨
This edition of CPH Townhall will be sandwiched by two more great tech events for your diaries, rounding out 24 tech power hours in Copenhagen - great for those of you flying / training and bussing in!
💥 Innofounder Investor Day - We're collaborating with Innofounder who are hosting is hosting their Innofounder Investor Day (invite-only) from noon to 5pm on the same day and in the same venue as Townhall. Pre-seed and seed-stage investors interested in meeting 30 of the best Danish tech startups can DM christoffer@innofounder.dk to request an invite!
💐 Townhall Pre-Party - Hosted together with Matrikel1 and Dreamcraft from 3pm in the Matrikel1 cafe, warming up with good drinks and good vibes before heading over to the main event together. Tickets here!
🍷 CPH Townhall - Tuesday 6th December from 5-9pm! Come re-connect with your friends from across the tech community, hear some great talks and maybe even cook up something new!
🔥 Startup Capital - Connecting pre-seed, seed-stage, and series A startups across the Nordics and Baltics with global investors through virtual facilitated matchmaking: Wed 7th, virtual!