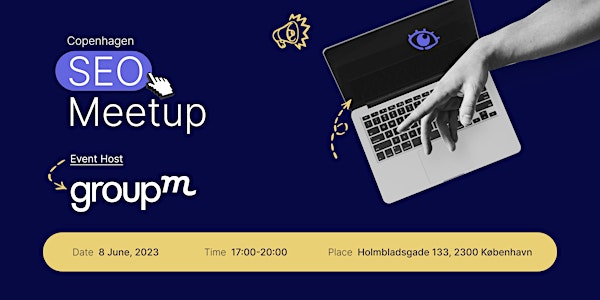 Copenhagen SEO Meetup
Our next meetup will cover topics like "SEO and AI for Growth Hacking" and "The Assumptions and Realities of Tech SEO".
Date and time
Thursday, June 8 · 5 - 8pm CEST
Location
GroupM Danmark 133 Holmbladsgade 2300 København Denmark
About this event
We are delighted to announce our upcoming Copenhagen SEO Meetup, which will be held on June 8th, 2023.
This time the event will be hosted by GroupM Danmark and promises to be an informative evening of learning and networking.
Agenda
17:00 – Doors Open
17:20 – Warm welcome and introduction to set the stage.
17:30 – 1st Presentation: Unleash the Power of SEO and AI to Drive Business Growth. In this presentation, Michael Cortzen (Lead Technical SEO Consultant) from Become will provide practical strategies and insights for mastering growth hacking with SEO, measurement, and AI. Learn how to optimize your website, leverage AI tools, and implement successful growth hacking tactics and measurements that drive real results.
18:15 – 30-Minute Break: Take a breather, refreshment, snack, and network with fellow attendees.
18:45 – 2nd Presentation: "The Assumptions and Realities of Technical SEO". In this presentation, Lars Thrane (Head of SEO) from Iternum Digital will break down the barriers and show the differences between on-page and technical SEO. Which tasks should you push to a web developer, and what should be handled by an SEO? And how can an increased understanding of web development further your skills as an SEO – to where you can call yourself a Technical SEO?
19:30 – Networking: Forge new connections, exchange valuable insights and experiences, and stick around for one last drink.
We can't wait to bring the SEO community in Copenhagen together for an evening filled with stimulating discussions and networking opportunities. We hope to see you there!
About the organizer
Let's get together and talk about all things SEO!
This is a recurring meetup for anyone who wants to learn from others, share their insights and engage with the local SEO community.
Why should I attend?
Because reading Neil Patel's blog is great, but it's not nearly as interesting (or as fun) as being in a room with a bunch of other marketers discussing SEO over a drink.
Is it something for me?
Everyone interested in the matter is welcome to join, although these events will mostly be interesting to people that already have a good understanding of online marketing and SEO.
What will I learn?
Every meetup includes short presentations on a very specific topic (no fluff!) but also a general discussion among those attending. So if there is a specific topic you want to discuss, this is the place for you!