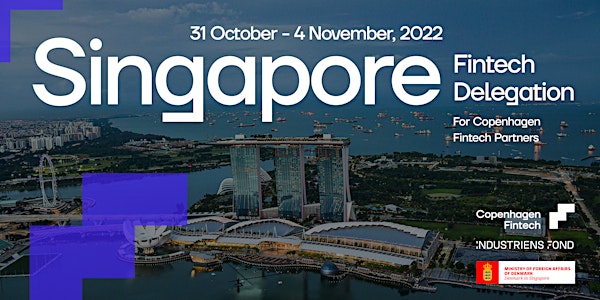 Copenhagen Fintech PARTNER Delegation - Singapore Fintech Festival
For Danish companies interested to attend Singapore Fintech Festival and engage/build up their ASEAN network and get inspired by the fintech
About this event
Copenhagen Fintech is organising a Danish delegation to Singapore, 31 October - 4 November to meet various financial institutions and our ASEAN partners.
What is covered in the trip:
• A pre-delegation meeting the week prior with the group
• A networking events with the delegation (TBD, more details to follow)
• Additional networking events with banks, VC's and other financial institutions (TBD, more details to follow)
What you need to do in order to attend the delegation:
• Sign up the delegation here @ Eventbrite
• Book flight + hotel and buy ticket for the Singapore Fintech Festival 2022.
NB! Prior to booking, please coordinate with Marie-Louise Roth (mlr@copenhagenfintech.dk).
This event is exclusive for partners of Copenhagen Fintech. If you are interested to be a part of the delegation, please register for the delegation. Your registration is not binding until you get an email confirmation from the Copenhagen Fintech team.
For questions, please connect with Marie-Louise Roth (mlr@copenhagenfintech.dk)