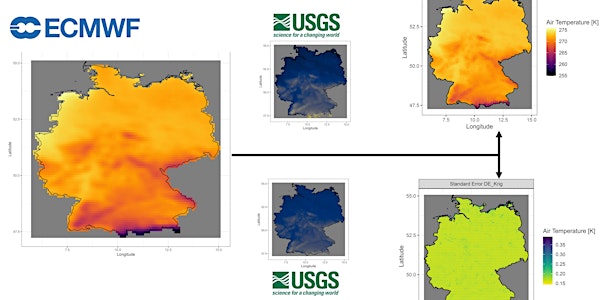 Climate Data Pipelines - Efficient Data Retrieval and Processing
Climate Data Pipelines for the 21st Century - Efficient Data Retrieval and Processing
By Climate Coffees (ECRA & Blue-Action)
Date and time
Thu, Feb 24, 2022 2:00 AM - 2:40 AM PST
About this event
Erik Kusch (Aarhus University) will talk about some recent work implemented with other fellows: Erik and colleagues have created an R-Package for download, temporal aggregation, masking, and statistically interpolating ERA5(-Land) data. The publication within which they present the R-Package (KrigR) itself has just been accepted (https://doi.org/10.1088/1748-9326/ac48b3). In a different publication published previously (https://doi.org/10.1088/1748-9326/ac39bf) Erik and colleagues demonstrated how data obtained through the KrigR framework relate to previously offered ready-made data sets and why they strongly believe that data handling pipelines (rather than ready-made data sets) are the way forward for downstream analyses.
Grab your coffee and join us for a chat with Erik on MS Teams at 11: 00 AM CET.
What is a climate coffee?
Climate coffees are relaxed meetings for scientists to exchange ideas, discuss about their latest results and new methods with their fellow scientists.
Climate coffees are an initiative of ECRA and Blue-Action.
About our speaker:
Erik is a PhD Student at the Center for Biodiversity Dynamics in a Changing World (BIOCHANGE) of the Aarhus University
Speaker profile: https://pure.au.dk/portal/en/persons/erik-kusch(b89f9447-03a6-45ad-a73d-ec59f161b3c0).html
Credits image: Erik Kusch (Aarhus University).