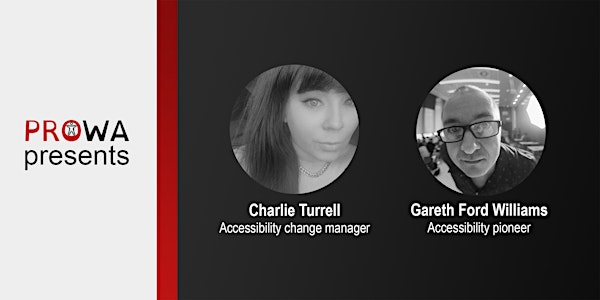 Charlie Turrell & Gareth Ford Williams: Accessibility Talks & Networking
Charlie Turrell & Gareth Ford Williams: Accessibility Talks & Networking
When and where
Location
Siteimprove 28 Sankt Annæ Plads 1250 København Denmark
About this event
Join us for a free afternoon of insightful accessibility talks by Charlie Turrell & Gareth Ford Williams.
After the talks, there will be snacks, drinks, and opportunities to socialize. The event ends at 19:00.
The talks will be held close to Nyhavn at the offices of Siteimprove, and they will be in English. There is limited seating, so first come first served. There are currently no plans for livestreaming.
This event is hosted by ProWA (PROfessionelle WebtilgængelighedsAktører) but it is also open to non-members.
Talks
Charlie Turrell: How to build an accessibility culture through a champions network, based on her experiences at BBC
Gareth Ford Williams: How to think and evaluate accessibility beyond compliance
The speakers
Charlie Turrell
A business transformation and change expert, specializing in accessibility and diversity networking. She's known for leading the globally recognized BBC accessibility champions network and creating new communities to initiate universal transformation, such As the global Champions of Accessibility Network (CAN). She will be talking to us about building accessibility culture through a champions network.
Gareth Ford Williams
In 2005 Gareth founded the BBC's Digital Accessibility Team and the Design Research Team in 2010, subsequently becoming the Head of UX Design. His team has also pioneered Mobile Accessibility Guidelines, BBC MAG, which were the first in the industry which have been used by thousands of organizations around the world. Gareth is now Director at Ab11y.com and will be talking to us about how to think and evaluate accessibility beyond compliance. Gareth also frequently writes about accessibility at Medium.com: medium.com/@garethfordwilliams