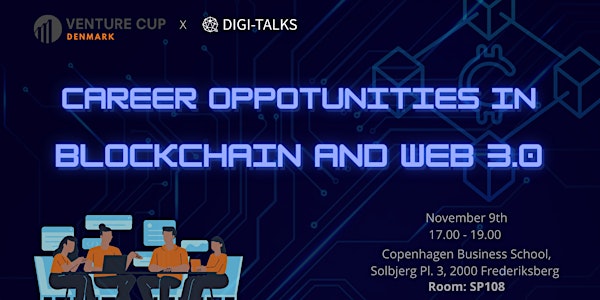 Career opportunities in Blockchain and Web 3.0
We at Digi-Talks have partnered up with VentureCup to bring you more knowledge about Blockchain and Web3.
When and where
Location
Copenhagen Business School 3 Solbjerg Plads 2000 Frederiksberg Denmark
About this event
👩‍💻 Web 3.0 is one of the latest technologies that uses machine learning, AI and blockchain to enhance human-computer interaction. Today, we are entering a phase where we are gradually switching from Web 2.0 (which we have all gotten used to) to Web 3.0 which is more open and decentralized, as it focuses more on private ownership. Moreover, it will use these decentralized networks to change the control that we have of our online data. NFTs, cryptocurrencies, DeFi and overall blockchain will play a big role in this transition in giving the power back to the user within their private ownerships. Blockchain is set to be paving the road for how people and organizations set new business rules and exchange assets within it.
🤲 In this event, we would like to focus on Web 3.0 and the opportunities it can provide, as well as, give university students an introductory guide to career opportunities with Web3.0; specifically within Blockchain. The goal is to provide a clear foundational understanding as to what working with Blockchain really means, together with tips towards getting into this segment.
By gathering expert opinions and perspectives from our speakers, you will receive valuable information from experienced people within the industry and hopefully continue the journey into the future of Blockchain and Web 3.0.
Location: Copenhagen Business School (Solbjerg Pl. 3, 2000 Frederiksberg). Room: SP108
Agenda:
17:00 - 17:10 - Welcome from Digi-Talks and VentureCup
17:10 - 17:25 - 'Intro to Crypto, Blockchain and Firi' - Karina Rothoff Brix, Country Manager for Denmark at Firi
17:25 - 17:40 - ' How to get your career started in blockchain and Web 3.0 as a student' - Jens Warnez, Head of Product at Januar
17:40 - 17:55 - 'The Rise of Decentralized Finance (DeFi)' - Daniel Rocha, Crypto Business Analyst at Kassio
17:55 - 18:05 - Break
18:05- 18:20 - 'My personal journey of joining the Web3 movement' - Nikolai Søndergaard, Country Lead at Binance
18:20 - 18:40 - Panel Debate on the future of Blockchain and Web 3.0, facilitated by Tegan Spinner
18:40 - 19:00 - Networking & drinks