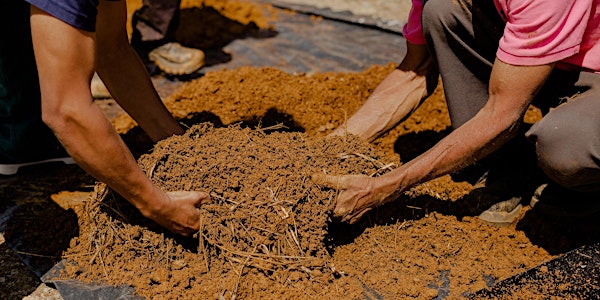 CAFx + SPACE10: Community Urbanism
How can we unite local customs and material innovation to build communities?
When and where
Location
SPACE10 10 Flæsketorvet 1711 København Denmark
About this event
Informal settlements are often home to people who have been displaced by conflict, violation of human rights, natural disasters, and anthropogenic climate change. These difficult housing conditions are often composed of inadequate and sometimes unsafe structures, situated at the edges of cities.
Residents of informal settlements often experience limited access to essential services and to formal work or credit, prompting people to build habitats with found materials. With informal settlements projected to be home to 35 percent of the world's population by 2030 — some three billion people — such growth requires radical responses to habitat solutions that are accessible, affordable and safe.
About the event
How can we better understand the needs and aspirations of people living in informal settlements? As part of the CAFx program, join us for a screening of Community Urbanism, a SPACE10 film exploring habitat in informal settlements in Medellin, Colombia.
Community Urbanism examines new approaches to building within informal settlements and the creation of habitat through community collaboration, material innovation, and designing with local people rather than for them.
We've invited Urban-Think Tank co-founder Alfredo Brillembourg to present his work and join us for a conversation with SPACE10's Esteban Gomez.
About the speakers
Alfredo Brillembourg is co-founding partner of Urban-Think Tank, a multi-disciplinary research group founded in Caracas, Venezuela, centred on bridging academia and practice in order to deliver innovative yet practical solutions to real-world problems. He is also a professor in architecture and urban design.
Esteban Gomez is design research lead at SPACE10, where he develops design explorations and research looking at the everyday essentials at home. He is a Colombian industrial designer interested in design research and social innovation. Esteban regularly works on community-based projects with bottom-up approaches that can give value to local traditional knowledge towards building more regenerative ways of living.
How to attend
Our events are open to all and free to attend. Please register in advance.
Join us at SPACE10 in Copenhagen on Tuesday 11 October 2022 at 5:30pm CEST. We hope to see you there!
About CAFx + SPACE10: Sense of Place
What creates a place depends on countless factors, both tangible and intangible: from the aesthetic effects of bricks, to the individual and collective memories embedded in city walls. From feelings of home in the house and neighbourhood, to the ideological discourses that influence the community, nation, and planet.
With this year's theme Sense of Place, Copenhagen Architecture Festival explores the transition where physical space becomes 'place' and the built becomes more than mere construction.
Set alongside our exhibition The Ideal City 2040 in SPACE10 Gallery, our joint CAFx + SPACE10 program shares films and dialogues exploring the complex relationships between spatial structures and experiences, feelings of home, and manifestations of place amid movement and migration.
Program
5:30 PM - Doors open
6:00 PM - Welcome to SPACE10
6:15 PM - Talk by Alfredo Brillembourg
6:30 PM - Introduction to film and screening: Community Urbanism
7:15 PM - Discussion and Q&A
8:30 PM - Thanks for tonight