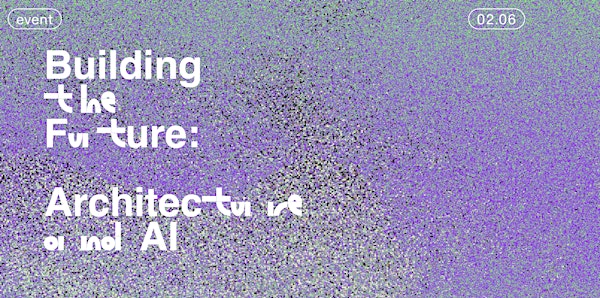 Building the Future: Architecture and AI
An evening with architectural designers exploring design democracy and AI's potential to shape the future built environment.
Date and time
Tue, 4 Jul 2023 17:30 - 20:30 CEST
Location
SPACE10 10 Flæsketorvet 1711 København Denmark
About this event
Progress in generative AI has led to a democratisation of design and architecture that allows anyone to envision the homes, streetscapes, and cities of tomorrow. As these tools evolve, we are exploring their potential as creative collaborators in how we imagine and create cities that are better for people and the planet.
This event will consider AI's potential to co-create more sustainable, resilient, and regenerative architecture. We will be joined by members of our global AI design competition jury — spatial designer Dominique Petit-Frère and Tim Fu, an architectural designer at Zaha Hadid Architects. Together, we will discuss how advancements in AI will impact and influence architecture.
Attendees will also have the opportunity to view the winning designs from our global AI design challenge, Regenerative Futures, which envisions homes, communities, and cities of tomorrow.
How to attend
Our events are open to all and free to attend. Please register in advance.
About the speakers
Dominique Petit-Frère is the co-founder and creative director of Limbo Accra, a spatial design practice founded in 2018 in Accra, Ghana. Her work is influenced by ideas towards inclusivity, otherness, and the future, often working with other creative disciplines.
Tim Fu is a London-based Canadian architectural designer. With Zaha Hadid Architects and ZHACODE, he specialises in AI design and computational research.
Ryan Sherman works with creative and strategy at SPACE10.
About UIA x SPACE10
Taking place in Copenhagen from 2 -6 July, UIA World Congress of Architects architecture as a key tool for achieving the UN's Sustainable Development Goals.
Through a program of talks and presentations, speakers, partners, and researchers will share their journeys towards a more sustainable built environment.
SPACE10 is hosting a series of official side events in conjunction with UIA, dedicated to this year's theme — leave no one behind.
Accessibility
SPACE10 Library and Gallery are accessible for people with disabilities and people who use mobility aids. We also have accessible toilets.
For any questions regarding access to our space, please contact us via discover@space10.com.
About the organiser
SPACE10 is a research and design lab on a mission to create a better everyday life for people and planet.