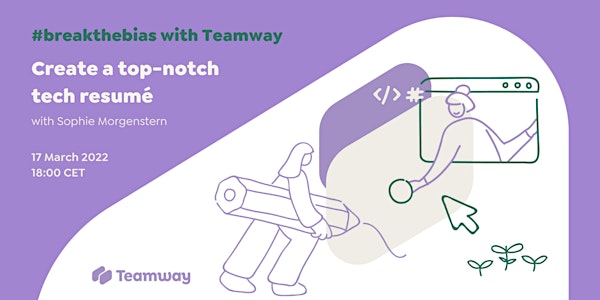 #breakthebias with Teamway: Create a top-notch tech resumé
#breakthebias with Teamway - a series of online workshops to accelerate tech freelancer career s of Women and non-binary people.
About this event
Today, only 18 % of all the IT professionals in Europe are female or non-binary. In Teamway's own Community of top IT freelance talent, less than 10 % are currently female or non-binary, so we know there's a long way to go to close the Gender Tech Gap in our own Community as well as worldwide.
In order to forge gender equality and among other initiatives, we're organizing a short skill-building program during March, which is 𝐭𝐚𝐢𝐥𝐨𝐫𝐞𝐝 𝐭𝐨𝐰𝐚𝐫𝐝𝐬 𝐟𝐫𝐞𝐞𝐥𝐚𝐧𝐜𝐢𝐧𝐠 𝐖𝐨𝐦𝐞𝐧 𝐢𝐧 𝐓𝐞𝐜𝐡 or those who want to become one. Let us introduce you to #breakthebias with Teamway - a series of online workshops which you can either attend individually or altogether to accelerate your tech freelancer career.
ABOUT THIS WORKSHOP:
Having technical skills will give you the opportunity to apply for roles in companies you love but having a top notch tech resumé & LinkedIn profile will lead you to land interview invites more efficiently! This will be a 40 min interactive workshop followed by a 20 min Q&A, so have your questions ready.
IN THIS WORKSHOP, YOU'LL LEARN:
✨How to design a good tech resumé that stands out
✨How to properly list your skills and achievements
✨How to write an intriguing professional summary
✨How to get inspiration - for keywords, graphic design, and more
ABOUT TEAMWAY:
Teamway is the community-led Web3 talent network that connects world-class tech talent with modern organizations in a remote, elastic and mutually trusted setup. Our clients include Ikea, Danske Bank, Aller Media and Verisure.
ABOUT THE SPEAKER:
Sophie Morgenstern is an experienced ecosystem builder, Design Thinking coach and Community professional. In her past, she has worked as a career coach for women and was responsible for recruiting of tech and non-tech talent in multiple teams. Today, she is Head of Community at Teamway, a global Community for remote tech freelancers