Sales Have Ended
Registrations are closed
Vi har lukket for tilmeldinger til begivenheden. Du er meget velkommen til at kontakte Ecaterina eller Karen og så vil vi tjekke, om der er flere ledige pladser.
Sales Have Ended
Registrations are closed
Vi har lukket for tilmeldinger til begivenheden. Du er meget velkommen til at kontakte Ecaterina eller Karen og så vil vi tjekke, om der er flere ledige pladser.
Bogreception i Aarhus. Ny dato: d. 5. november
About this event
For at fejre udgivelsen af min bog "Integrated Storytelling by Design" vil jeg gerne invitere til en lille, hyggelig sammenkomst fredag eftermiddag i november.
Det har været lidt af en rejse, fra kontrakten med forlaget Taylor & Francis blev underskrevet tilbage i 2019, til at samle materiale fra flere års oplevelser og erfaringer, som blev til de 286 sider i bogen, for til slut nå den endelige udgivelse d. 7. juli 2021. Det har på flere måder været en spændende færd. Den er ikke mindre spændende nu, hvor folk rundt omkring i verden begynder at fortælle om, hvordan de bliver inspireret af indholdet i bogen. Så det er på høje tid at fejre, at bogen endelig er udkommet.
Fredag den 5. november 2021 har AdventureLAB teamet arrangeret en hyggelig bog reception i Filmbyen Aarhus. Hvis du er interesseret i "Integrated Storytelling by Design", og hvordan storytelling og oplevelsesdesign kan forenes, er du mere end velkommen til at deltage. Der vil være musik, en forfriskning, naturligvis en kort tale om bogen og dens baggrund, samt efterfølgende mingling, bogsignering og andre spændende aktiviteter.
Jeg glæder mig til at se jer!
De bedste hilsner,
Klaus Sommer Paulsen
S.U. for begivenheden er d. 2. november kl. 12.00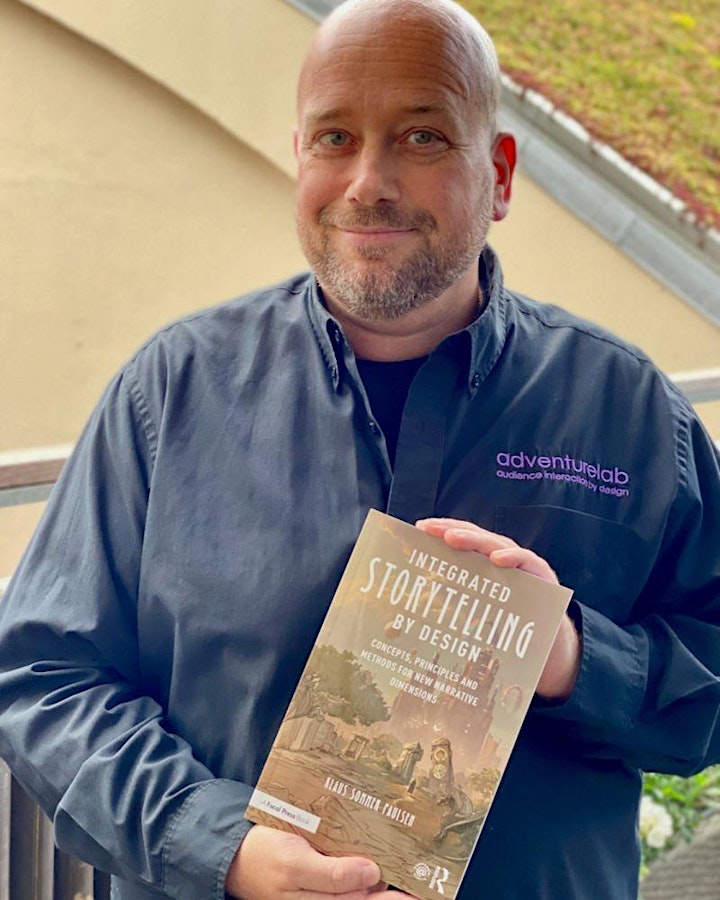 Integrated Storytelling by Design@ kan forudbestilles til en særlig pris for dem, som deltager i bogreceptionen. Hvis du bestiller bogen i vores online shop inden d. 20. oktober, vil du få din bog udleveret til receptionen.
Program
Fredag d. 5. november 2021
Dørene åbner kl. 16.00. Ved ankomst er du meget velkommen til at tage en drink og møde de andre gæster. Hvis du har brug for lige at samle de løse ender på arbejdet inden arrangementet, så bare rolig, det er helt okay at støde til senere på aftenen.
Kl. 16.30 giver Klaus en lille tale, byder folk velkommen og fortæller jer mere om programmet for resten af dagen.
Indtil kl. 19.00 har vi nogle spændende aktiviteter planlagt for jer. Der vil bl.a. være giveaways, bogsignering samt hyggelig mingling og networking med hinanden.
Adresse
Filmbyen 4, 6 th, 8000 Aarhus C
Vores gode venner fra VIA Film and Transmedia har lånt os deres fantastiske lokale med lækker panoramaudsigt over byen. Hop på elevatoren eller hvis du er klar på det, kan du også tage trapperne op til 6. etage, hvor vi vil stå klar til at byde jer velkommen.
Hvis du kommer i bil, er der betalingsparkering i Filmbyen lige ved siden af VIA ,og DOKK1 parkering er kun 300 m væk.
COVID-19 tiltag
Når vi nærmer os receptionens dato, vil coronarestriktionerne være ophævet i det meste af Danmark, men vi vil blot for en god ordens skyld minde dig om at blive hjemme, hvis du har symptomer, føler dig syg, eller har været i nær kontakt med en smittet person.
Organizer of Bogreception for Integrated Storytelling by Design
AdventureLAB is an award-winning integrated storytelling and experience design studio working with core concept, story and design development for themed entertainment and brand experiences around the world. As part of our design and development programs, we provide world-class facilitation of creative development. Furthermore, we share our expertise and knowledge by providing high-level professional training to leading brands in the experience, marketing, tourism and attractions industry to help them achieve success with 21st-century media technology and new audience types and roles.