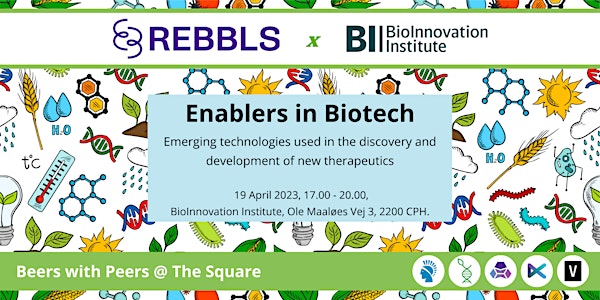 BII x REBBLS: Enablers in Biotech
Learn how to improve pharmaceutical discovery and development with Enabling Technologies at this knowledge sharing and networking event!
By REBBLS (Rising Entrepreneurs in Bio Business and Life Science)
Date and time
Wed, Apr 19, 2023 5:00 PM - 8:00 PM CEST
Location
BioInnovation Institute 3 Ole Maaløes Vej 2200 København Denmark
About this event
Denmark is a great place to develop new pharmaceuticals and other health care products. A key reason for this is the strong local ecosystem, with deep expertise in many areas helping bring these novel products to market approval and patients.
In this REBBLS x BioInnovations Institute crossover event, we give the stage to this ecosystem, with focus on Enabling Technologies - new methods or techniques to enable and improve the pharma discovery and development process.
Expect presentations from five innovative startups or SMEs showcasing their expertise and technology that speeds up, derisks or diversifies the drug development process to give a better, faster, cheaper end results. Plus plenty of time for networking and discussion over some beer and food.
Presentations:
Synobody: production and screening of synthetic nanobodies,
Dianox: AI-driven aptamer discovery
Tetrakit: next-generation radiopharmaceutical labelling
Minerva Imaging: preclinical molecular imaging
Veil.AI: AI-anonymized clinical data
Wednesday 19 April at the BioInnovations Institute's square stage
Doors open at 17.00, with talks starting at 17.30. Then it's all over at 20.00.
The event is free but pleaser register for tickets as space is limited.