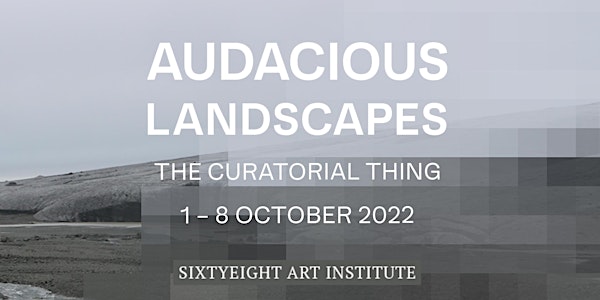 AUDACIOUS LANDSCAPES - ONE DAY TICKET
SixtyEight Art Institute is hosting public events in our upcoming intensive programme, The Curatorial Thing. Register for event streaming.
Refund Policy
Contact the organiser to request a refund.
About this event
SixtyEight Art Institute is pleased to announce the schedule for public events in our upcoming curatorial intensive programme, The Curatorial Thing, organised under the Audacious Landscapes theme and framework. This week-long gathering will apply SixtyEight Art Institute's research on climate art histories to critical discussions of future imaginaries in a warming world, and will incorporate both climate grief and regenerative thinking through art, architecture, and design.
The 1-8 October 2022 meeting period will be shaped by workshops between the participants and invited lecturers, site and studio visits, and lectures open to the general public. These public lectures take place at the Faculty Library of Social Sciences of the University of Copenhagen. All lectures will be available (physically) to the public for free and will be streamed (virtually) for a nominal fee for anyone interested in following our programme.
Please see below for the updated and final schedule.
SCHEDULE:
Saturday, 1. October
13.30 – 15.30 Public Lecture Programme
Critical Visions in a Warming World
Anne Haaning, visual artist and Research Fellow, The Norwegian Artistic Research Programme, NO/UK/DK
KEYNOTE: T.J. Demos, art historian and cultural critic, Professor in the Department of the History of Art and Visual Culture, at University of California, Santa Cruz, US
Tuesday, 4. October
18.00 – 21.00 Public Lecture Programme
Climate and Cultural Art Histories
Mathilde Helnæs, curator, Sorø Kunstmuseum (DK)
Luamba Muinga, curator, cultural researcher, writer (AO)
KEYNOTE: Andri Snær Magnason, writer and documentary filmmaker, author of On Time and Water (IS)
Wednesday, 5. October
18.00 – 21.00 Public Lecture Programme
Image and Media in Climate Communication
Catherine Sarah Young, artist, Manila/Sydney (AU/PH)
Jørgen Bruhn, intermediality and ecocriticism specialist, Professor of Comparative Literature, Linnaeus University (SE)
KEYNOTE: Diedrich Diederichsen, writer and cultural critic, Professor of Theory, Practice, and Communication of Contemporary Art, Institute for Art History and Cultural Studies, Vienna (AT)
Friday, 7. October
18.00 – 21.00 Public Lecture Programme
Engaging with Place: Ruin, Memory, Regeneration
Maddie Leach, artist/Senior Lecturer in Fine Arts, U. of Gothenburg, Sweden (SE/NZ)
Ash Sanders, climate writer and activist (US)
KEYNOTE: Darren Parry, former chairman of the Northwestern Band of the Shoshone Nation, author and founder, Boa Ogoi Cultural Interpretive Center (US)
Saturday, 8. October
12:30 – 15.30 Public Lecture Programme
Regenerative Architecture in Climate Art History Perspective
Ariana Kalliga, independent curator, New York and Athens (GR/UK)
Angela YT Chan, researcher, curator, and artist (UK)
KEYNOTE: Beatriz Colomina, architecture historian and theorist, Howard Crosby Butler Professor of the History of Architecture, Princeton University (US)
ABOUT OUR FIFTH EDITION OF THE CURATORIAL THING
The Curatorial Thing is our annual intensive programme for curators, artists, researchers, and the public, from 1 – 8 October 2022. Using the Nordic notion of a 'thing' – an old concept for a meeting place, an assembly of the community, or as the precursor of the modern term 'parliament' – we have invited 18 individuals or groups of artists, designers, and curators for a series of day-long closed workshops. In addition, we are organising a public lecture programme for the general public that will feature leading figures operating in and outside the Nordic Region. This year's edition of The Curatorial Thing will build on SixtyEight's ongoing exhibition programme, Memoirs of Saturn, which envisions potentials for prosperity in a warming world.
We have chosen the title AUDACIOUS LANDSCAPES, from a 1938 poem by Muriel Rukeyser on witnessing an industrial landscape with "clouds over every town" that "indicate the stored destruction," foreshadowing our own time. As this carbon buildup has led to global climate crises, curatorial practices have become a form of witness. In developing The Curatorial Thing, we read "audacious" as a paradox of capitalist hubris and the risk of imagining better possible afterlives. Using this paradox as a starting point, we consider "landscape" beyond framed artworks in museums, as art objects take on new roles in the public sphere.
Our twofold goal is to move participants' thinking from art histories of grief to imaginative proto-histories of thriving, especially in profoundly changed ecosystems, and to move critical inquiry from a modernising to an ecologising mindset. We aim to find a triad of contextual histories, climate narratives, and innovative spatial-natural theories that can enable us to foster a new climate art history. Therefore, the workshops and keynote lectures of this meeting will not only focus on the aftermath of climate-related art histories to aid us in thinking forward but will also explore climate grief as a moving bio-physical space to seed new and active imaginations. To this end, we want to investigate how art can inspire larger-scale solutions for a warming world and, at the same time, find the historical lineages that can give us both the hermeneutic and contemporary tools to sustain critical spaces, such as those that can nurture and support these new imaginations.
The Fifth Edition of The Curatorial Thing is organized/curated by Heidi Hart and Hugo Hopping for SixtyEight Art Institute and is made possible with the generous support of the Novo Nordisk Foundation.