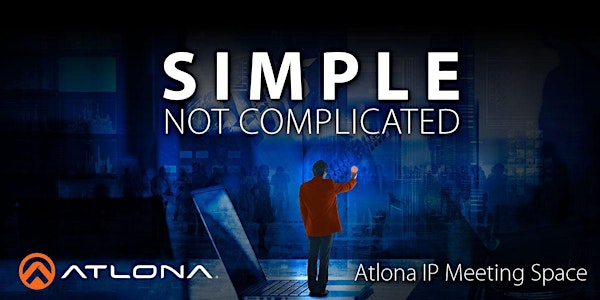 Atlona seminar dag morgen - ALL IP Meeting Space
When and where
Location
Imago Sonas A/S Marielundvej 46E th. 1 2730 Herlev Denmark
Description
På dagen har vi Danmarks premiere på markedets smarteste styringssystem VeloCity, som er helt cloud baseret.
For første gang viser vi også en opdateret version af succesproduktet OmniStream.
Verdens eneste AV-over-IP-løsning, der understøtter 4K / 60hz 4: 4: 4 HDR, Dolby Vision, Dolby Atmos og redundans over et standard 1Gbps netværk.
Disse to produktserier er designet og udviklet til at fungere i symbiose med hinanden og danne en unik IP-baseret AV-løsning. Vi vover at love, at du aldrig har set et lige skalerbart og innovativt produkt før.

Markedets bedste AV-over-IP-produkt sammen med det unikke styringssystem VeloCity giver dig store konkurrencefordele og indtægtsmuligheder!
Derudover viser vi også andre efterårsnyheder, såsom helt nye Opus serie matrix switches, nye Omega forlængersystemer og nye Juno switche.
Der er mulighed for hands-on i den sidste del af seminaret.
Fra Atlona får vi besøg af Ken Eagle, som er Director of Field Training and Technical Sales.
Ken er en fantastisk underviser, og er god til at formidle det som giver værdi til din forretning.

Du kender måske allerede Ken fra ISE eller fra Atlona's online videoer.
Det er Ken som har skabt og vedligeholder Atlona Academy.
Seminardagen er helt gratis.
Tag en chance for at se og lære mere om fremtidens tekniske løsninger.
Det er også en god mulighed for at møde kollegaer i branchen.